Burgers are extremely popular dishes all over the world. They can be prepared classically, they also taste great with tuna, and my favorite are sweet burgers. Today I present to you a recipe for an equally great burger with pulled pork 🙂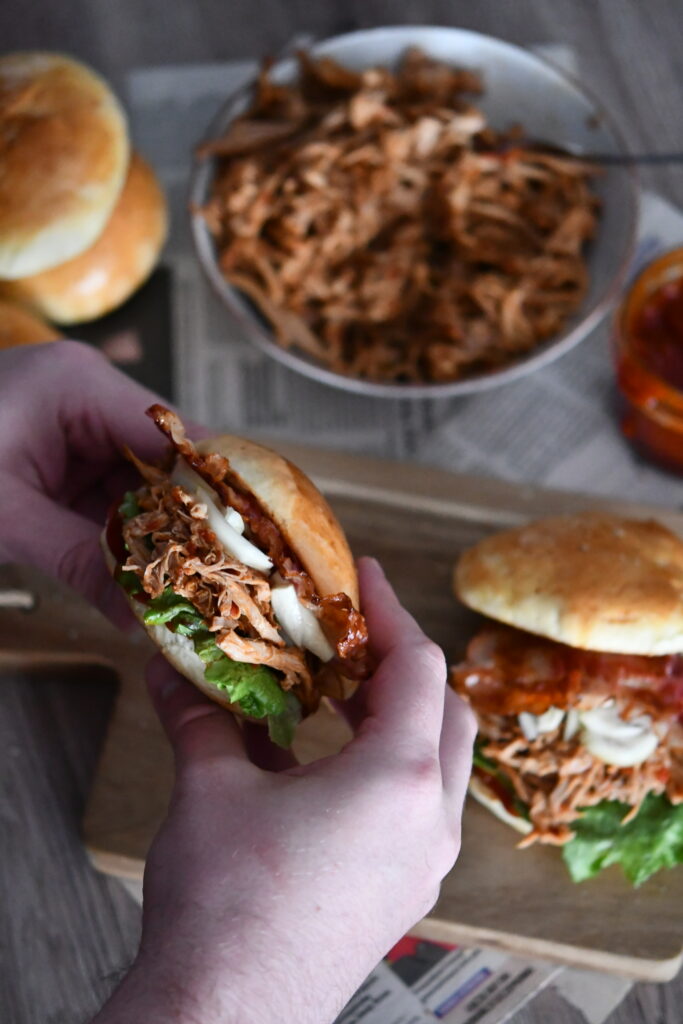 Ingredients:
6 x burger buns (preferably homemade – recipe)
lettuce
1 white onion, sliced
12 x fried bacon strips
Pulled Pork:
1 kg of pork shoulder
½ teaspoon freshly ground pepper
¼ teaspoon salt
2 sprigs of rosemary
1 chili, diced
150 ml barbecue sauces (preferably homemade – recipe)
1 can of canned chopped tomatoes (400g)
frying oil
Procedure:
Coat the meat on all sides with salt and pepper. Heat the oil in a heavy-bottomed pot and fry the pork until golden on each side. Add tomatoes with brine, barbecue sauce and rosemary. Simmer the meat on low heat, covered, for about 5 hours. If the sauce gets too thick, add water. Tear the meat with a fork and mix with the sauce. Set aside. Cut burger buns in half and spread 2 tablespoons of the barbecue sauce. Arrange lettuce on the base. Put 2-3 tablespoons of pulled pork and top with onion and bacon 🙂
Enjoy!