For most people, the perfect burger is perfectly prepared meat, but the roll also plays a very important role in this delicious sandwich. You can easily prepare such a delicious roll at home, you only need a few basic ingredients and time to rise the dough. It's really worth doing it yourself rather than buying ready-made ingredients with unknown ingredients 🙂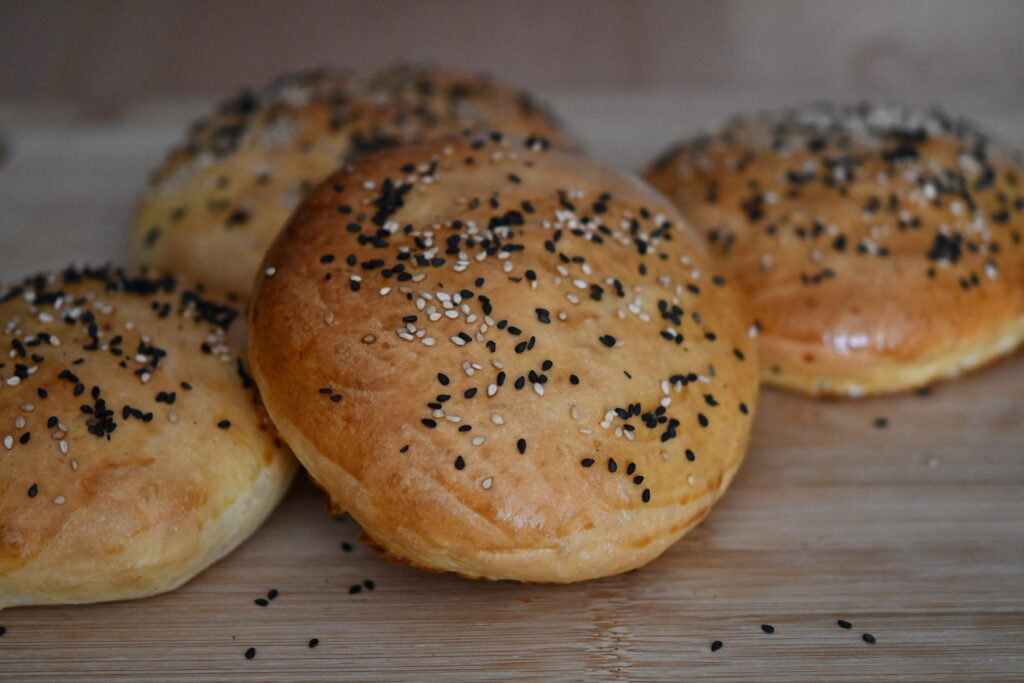 Ingredients:
250 g of flour
1 egg, beaten
2 ½ teaspoons of melted butter
80 ml of warm water
5 g of dry yeast
half a teaspoon of salt
1 teaspoon of sugar
spoon of milk
sesame seeds for toppings
Procedure:
Put flour, salt, sugar, yeast, half of the egg beaten, melted butter and water into a large bowl. Mix all ingredients thoroughly with a fork, knead the dough by hand for about 10-15 minutes. If the dough is too sticky, add a little flour, but remember that the dough should be elastic and delicate. Transfer the dough to a bowl, cover it with a cloth and set it aside in a warm place. Wait about an hour for the dough to double. Divide the dough into four portions, form balls, and then flatten them into flat disks. Place the dough on a baking tray lined with baking paper. Cover again with a cloth and leave to rise in a warm place for an hour. Mix the remaining half of the egg with the milk thoroughly. Gently brush the top of the buns and sprinkle with sesame seeds. Put in an oven preheated to 200 ° C (preferably up and down, but hot air will also create nice rolls) for about 15 minutes.
Enjoy!