This baked Strawberry Cheesecake is a great dessert for every occasion! Rich and creamy cheesecake topped with luscious, syrupy strawberry topping that melts in your mouth. Garnished with some fresh strawberries that make it look wonderful, will definitely tempt you to finish 'em all 🙂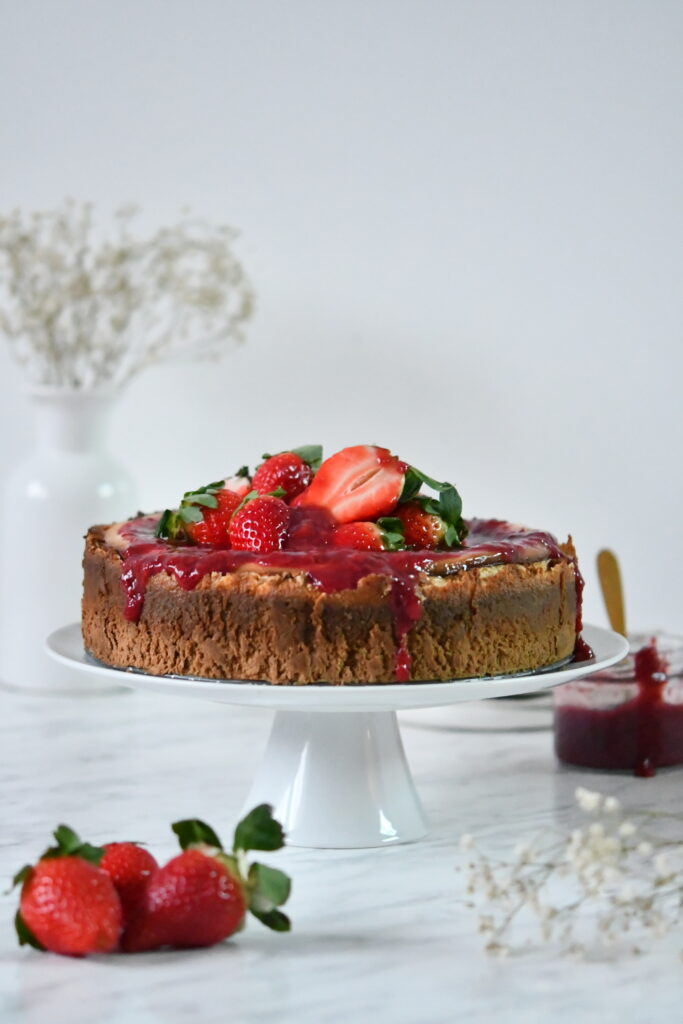 Ingredients:
For the Crust:
1 cup ground crackers, I used petit beurre
½ cup melted butter
1 tablespoon of granulated sugar
For the filling:
1 kg cottage cheese in a bucket
250 g mascarpone
1 ½ cup (300 g) granulated sugar
2 tablespoons vanilla sugar
3 tablespoons sour cream 12%
200 ml cream 36 %
5 large eggs
2 tablespoons flour
For the strawberry topping:
⅓ cup (70 g) sugar
450 g strawberries fresh or frozen
2 tablespoons fresh lemon juice
1 ½ teaspoon potato flour
2 tablespoons of water
fresh strawberries for garnish (optional)
Procedure:
For the crust, mix all the ingredients together. The mixture should look like wet sand and hold together. Transfer into a 23cm round baking tin lined with baking paper. Spread evenly and press into the bottom using a spoon. Bake the crust at 180ºC for 10 minutes. Remove from the oven and let it cool. Now, combine all the filling ingredients into a bowl. Mix at a medium-high speed until well combined. Pour the filling over the crust and bake for 15 minutes. Reduce the heat for 120ºC and bake for another 1.5 hours. After this time, open the oven a little and leave the cheesecake inside for about half an hour. Remove from the oven and allow to cool. For the strawberry toppings, thoroughly wash the strawberries. Remove the stalks and cut into cubes. Place the strawberries, sugar and lemon juice into the saucepan. Stir then bring to a simmer for 7 minutes over a medium heat. Simmer until the strawberries break down. Mix the potato flour and water in a glass, then stir in, it will thicken quickly. The texture should be syrupy. Remove from the stove and let it cool. Once cool, spoon over the cheesecake and garnish with some fresh strawberries. Refrigerate for 2-4 hours. Slice and serve.
Enjoy!