Stews are great dishes that cook by themselves. They are perfect for preparing the next day, because the ingredients will taste even stronger. This time a simple and tasty pork stew with chickpeas and a Spanish note 🙂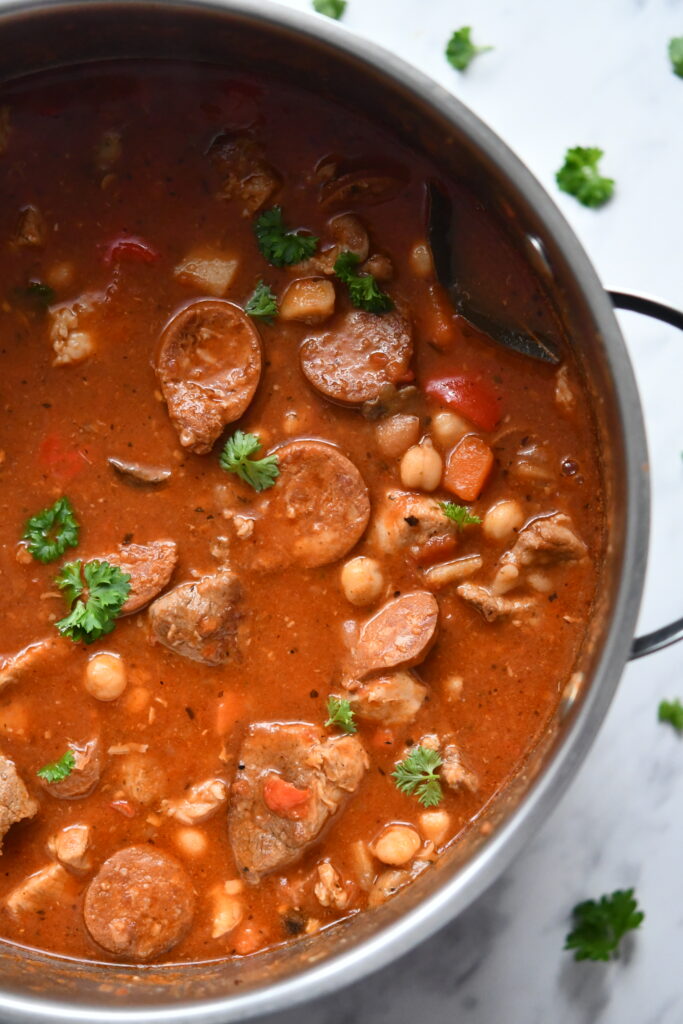 Ingredients:
1 onion, diced
3 garlic cloves, minced
1 carrot, cubed
1 parsley, cubed
1 small piece of celery, diced
1 tablespoon of ground sweet paprika
½ teaspoon of ground smoked paprika
2 bay leaves
3 grains of allspice
200 g chorizo sausage cut into slices
1 kg pork shoulder, diced
600 ml of hot broth
150 g mushrooms cut into smaller pieces
1 red bell pepper, cubed
1 tablespoon of oregano
½ teaspoon of basil
1 can of chopped tomatoes with brine (400g)
1 tablespoon of tomato paste
400 g cooked chickpeas after draining
1 tablespoon of flour to thicken the sauce
salt and pepper to taste
oil for frying
1 tablespoon of olive oil
parsley for garnish
Procedure:
In a large pot, heat the olive oil over medium heat. Add onion, garlic, carrot, parsley and celery. Fry together for about 5-7 minutes. Add sweet and smoked paprika, allspice and bay leaves. Mix everything. You can add some water. Reduce heat and simmer, covered. Heat some oil in a separate pan. Fry the sausage for 3-4 minutes and add it to the vegetables. In the same pan, fry the pork in batches and also transfer to the pot with vegetables and sausage. Pour the hot broth over the dish in the pot and simmer covered for 40 minutes over low heat. During this time, in the same pan, heat the oil and fry the mushrooms. Add the paprika, oregano and basil and fry together for a few minutes. Transfer the contents of the pan to the pot. Add tomatoes, concentrate and chickpeas to the pot. Mix everything and pour ½ cup of the sauce from the pot to thicken. Stew the dish for 20-30 minutes until the meat is tender. When the sauce in the glass has cooled down (you can add a little cold water) mix it thoroughly with the flour. Add to the stew. Season to taste with salt and pepper. Garnish with parsley and serve 🙂
Enjoy!