Onion is one of the most important ingredients in Polish cuisine, so pork and onion goulash is a must-have on my menu. Simple ingredients, a classic dish with a great flavor composition. The perfect way for a simple and delicious lunch for the whole family 🙂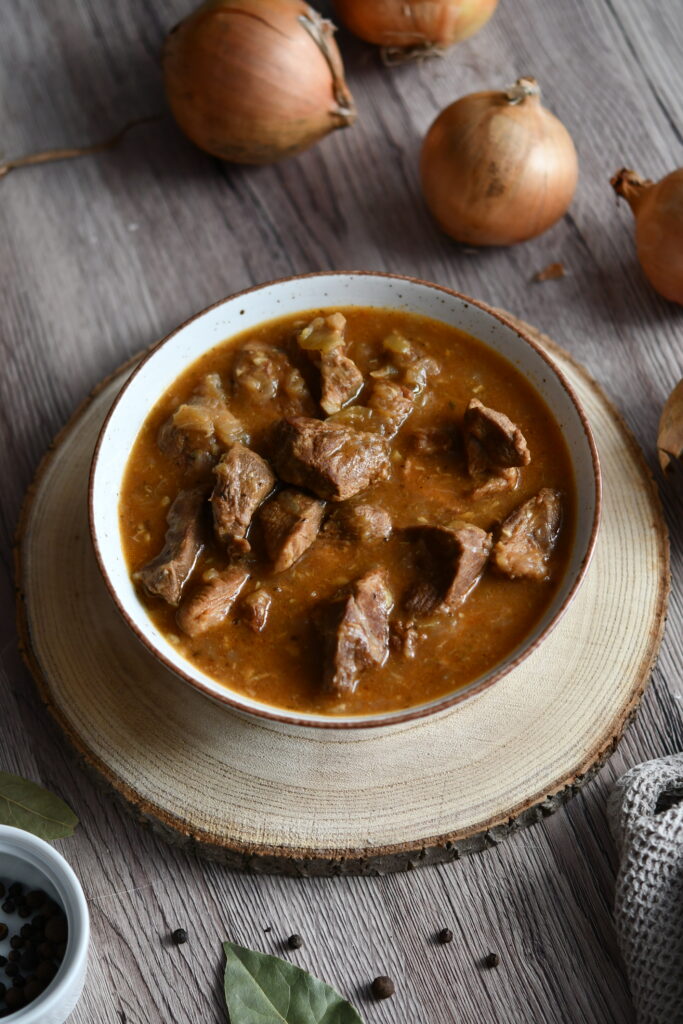 Ingredients:
1 pork shoulder, cubed
5 medium onions, diced
6 cloves of garlic, minced
700 ml of broth
1 teaspoon of freshly ground pepper
4 grains of allspice
2 bay leaves
2 teaspoons of sweet pepper
1 teaspoon of dried oregano
1 tablespoon of flour
1 tablespoon of butter
oil for frying
salt (optional)
Procedure:
Coat the meat in peppercorns, sweet pepper and oregano. Heat the oil in a pan and fry the meat in batches, transfer to the pot in which you will cook the stew. In the same frying pan, heat the oil and fry the onion and garlic until the glass color. Add the fried onion to the meat with bay leaves and allspice, pour the broth and simmer for an hour, until the meat is tender. When the meat is soft, melt the butter in a hot pan and fry the flour until golden brown. Add the resulting roux to the stew to thicken the sauce. Season to taste with the recipe's spices and possibly add salt (depending on whether the broth is salty). Serve with potatoes, bread, groats or rice 🙂

Enjoy!