Pork goulash or stews are often found in my kitchen. They also taste great when heated, it is easy to feed the whole family with, and the best thing is that they actually cook alone and all you have to do is wait until meat has softened and let all the ingredients combine. This stew is great, slightly spicy, tomato, with juicy meat, crunchy peppers and delicious chickpeas, a great way to make a perfect dish 🙂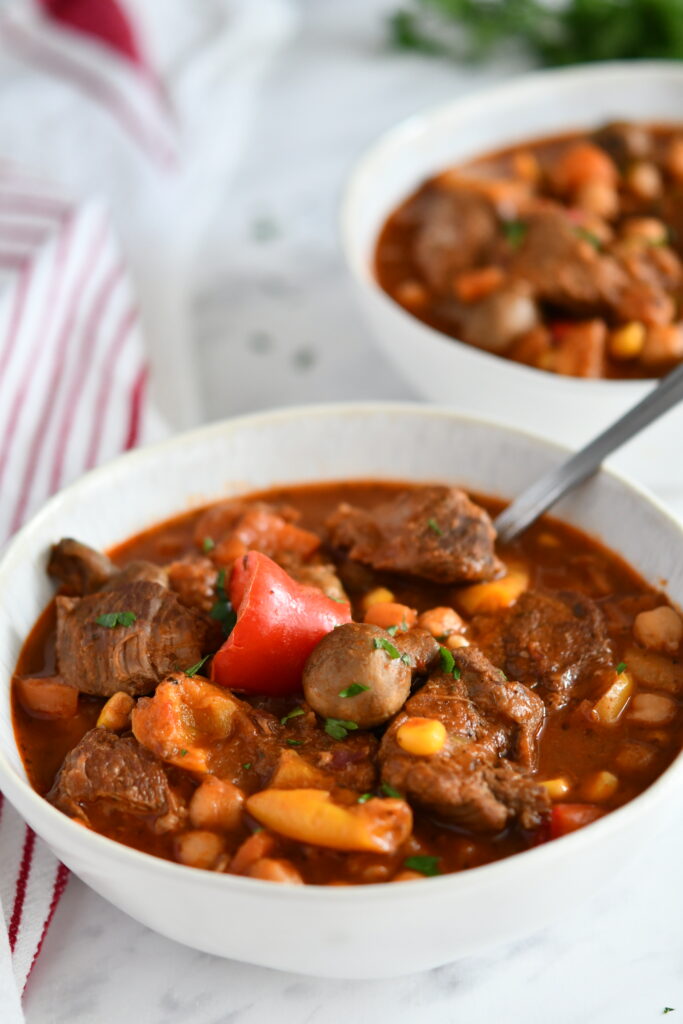 Ingredients:
1 kg of pork shoulder, cut into cubed
1 onion, diced
100 g of sliced ​​smoked bacon, cut into strips
1 small piece of leek, diced
2 small carrots, cubed
1 small parsley, cubed
4 garlic cloves, minced
a piece of celery, cubed
1 chili pepper, diced (with seeds)
600 ml of broth
250 g small mushrooms (or larger, cut into smaller pieces)
1 red bell pepper, cubed
1 yellow bell pepper, cubed
100 g of tomato paste
400 g of cooked chickpeas, drained
170 g canned corn, drained
2 tablespoons of sweet pepper
1 tablespoon of sweet smoked paprika
1 tablespoon of marjoram
1 teaspoon of oregano
4 grains of allspice
2 bay leaves
salt and pepper to taste
oil for frying
Procedure:
In a pot, heat the oil and fry the bacon. Add the onion, parsley, carrot, celery, leek, chili and garlic and simmer for about 7 minutes. Add marjoram, ordinary and smoked sweet paprika, mix everything thoroughly. Mix the meat with salt and pepper. Heat the oil in a frying pan and fry the pork until golden brown. Transfer the meat to the pot, pour the hot broth over it, add the allspice, bay leaves and simmer, covered, for about an hour, until the meat is tender. In the same pan, fry the mushrooms in oil. Add the peppers and fry them together for a few more minutes, at the end add the oregano and mix thoroughly. Transfer the contents of the pan to the meat pot. Now add the corn, tomato paste and chickpeas to the stew. Simmer everything for about 25 minutes, stirring constantly. Possibly season to taste. Serve with buckwheat groats 🙂
Enjoy!