Paella is a traditional Spanish dish, most often containing seafood, but it is also popular with chicken and chorizo. However, I decided to give a Polish accent by adding Silesian sausage. The effect is stunning, a wonderful and simple dish rich in various flavors 🙂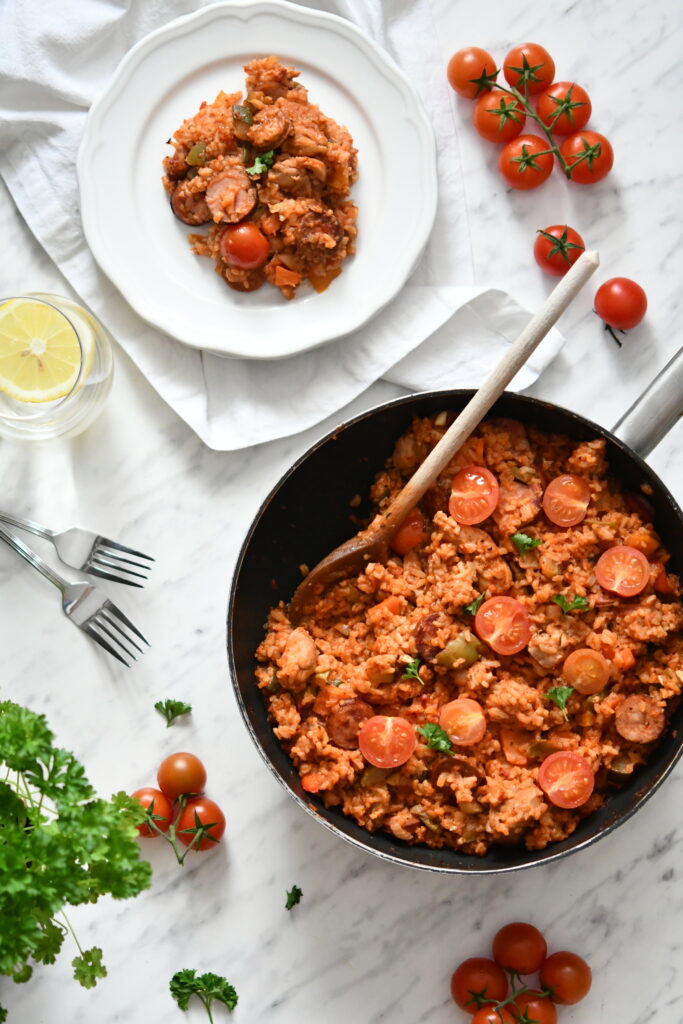 Ingredients:
100 g chorizo sausage cut into slices
200 g of Silesian sausage cut into slices
500 g chicken thigh meat (boneless), cut into smaller pieces
1 onion, diced
1 medium carrot, cubed
a small piece of celery root, cubed
small yellow bell pepper, cubed
small green bell pepper, cubed
small red bell pepper, cubed
half a small zucchini, cubed
1 tablespoon of sweet ground paprika
½ teaspoon of ground smoked paprika
1 can of chopped tomatoes with brine (400g)
1 tablespoon of tomato paste
½ teaspoon of basil
1 teaspoon of oregano
2 cups (200 ml) of raw rice
900 ml hot stock (e.g. chicken stock)
salt and pepper to taste
oil for frying
a few cherry tomatoes cut in half for garnish
a few pieces of green parsley for garnish
Procedure:
Heat the oil in a skillet over medium heat. Fry the sausage literally for a moment and transfer to the dish (leave the fat in the pan). In the same pan, fry the chicken for a while (it doesn't have to be fried inside) and transfer it back to the dish with the sausage on it. In the same pan, add olive oil if needed and fry the onion, carrot and celery for about 3 minutes, stirring occasionally. The vegetables should be slightly glazed. Add yellow, green and red peppers and zucchini. Add sweet ground paprika and smoked paprika. Stir everything together and cook for 5-6 minutes. Add chicken, sausage, chopped tomatoes, tomato paste, basil and oregano to the dish. Mix. Add the rice, pour in the broth and mix thoroughly. Simmer over low heat, covered, for about 20-30 minutes, until the rice is cooked through (you can stir occasionally if you are concerned about the rice sticking to the pan). If you have too much sauce, reduce it by stewing the dish without a cover. Season to taste with salt and pepper. Turn off the heat, add the tomatoes on top, cover the pan and leave for 5-7 minutes until the tomatoes are slightly cooked. Garnish with parsley and serve hot 🙂
Enjoy!