Cobbler is a really nice dessert. It seems like a lazy dessert, because the filling is actually covered with dough, not stuffed. What counts, however, is the taste effect, and this one is wonderful. This dessert is really delicious and also looks very tasty and perfect for an easy summer dessert 🙂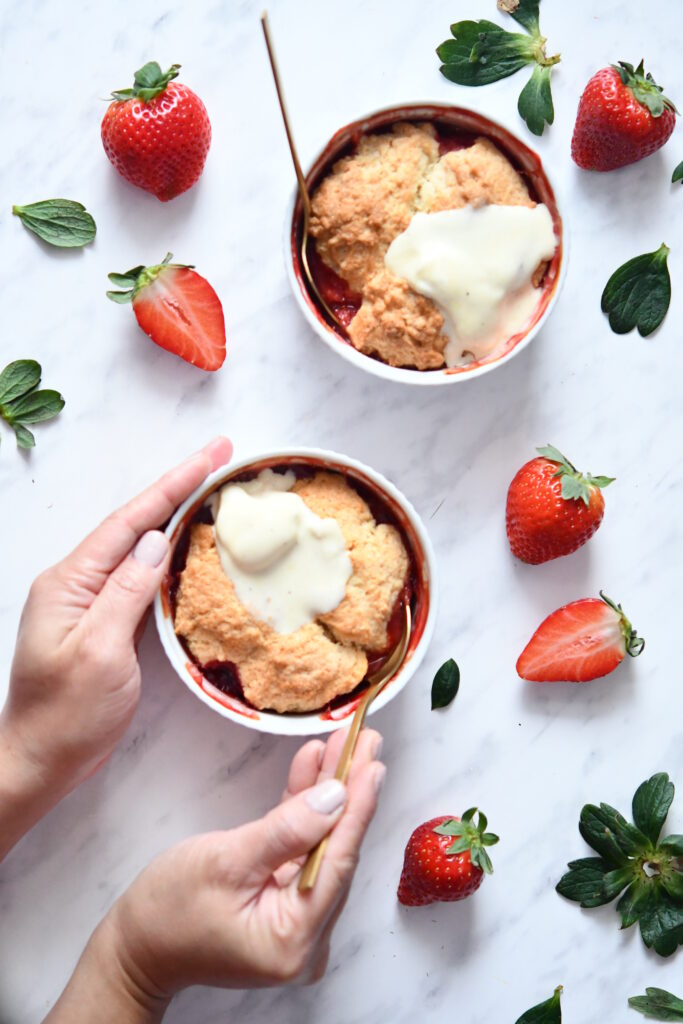 Ingredients:
For the strawberries:
400 g fresh strawberries
2 teaspoons caster sugar
1 teaspoon cornstarch or potato flour
For the Cobbler topping:
40 g flour
1/4 tsp baking powder
2 tablespoons caster sugar
pinch of salt
15 g chilled butter, cut into cubes
1 tablespoon heavy cream
2 teaspoons sugar plus 1 tablespoon of cream
Procedure:
Preheat the oven to 170°C. Prepare two ramekins (11 cm wide and 5cm high) ready. Rinse the strawberries and remove the stems. Chop into bite-sized pieces and add to a bowl with the sugar and potato flour. Stir gently to evenly coat the strawberries, then divide among the two ramekins. Set aside the ramekins while you make the topping. In a medium-sized bowl, combine the flour, baking powder, sugar and salt. Stir, then add the butter. Rub it in with your fingertips until the mixture resembles coarse breadcrumbs. Stir in the cream and bring it all together into a soft, but not overly wet dough. If it's dry, you can add some more cream. Spoon the dough all over the strawberries, making sure the dough is evenly divided among the ramekins. Place the ramekins on a baking tray and bake for 20 minutes until the topping is beginning to lightly brown. Then increase the temperature to 180°C and bake for another 15 minutes until the juices are bubbling and the topping is golden-brown. Let the cobbler rest at room temperature for about 25-30 minutes. Drizzle with cream or add a scoop of vanilla ice cream while still slightly warm. Serve 🙂
Enjoy!