A delicious stew that is a bit of a mixture of Mexican stew and Hungarian stew, which makes a really delicious stew for the whole family. To spice up the taste, you can also add chili pepper, but I did not add it because I believe that the stew is rich enough in a variety of flavors 🙂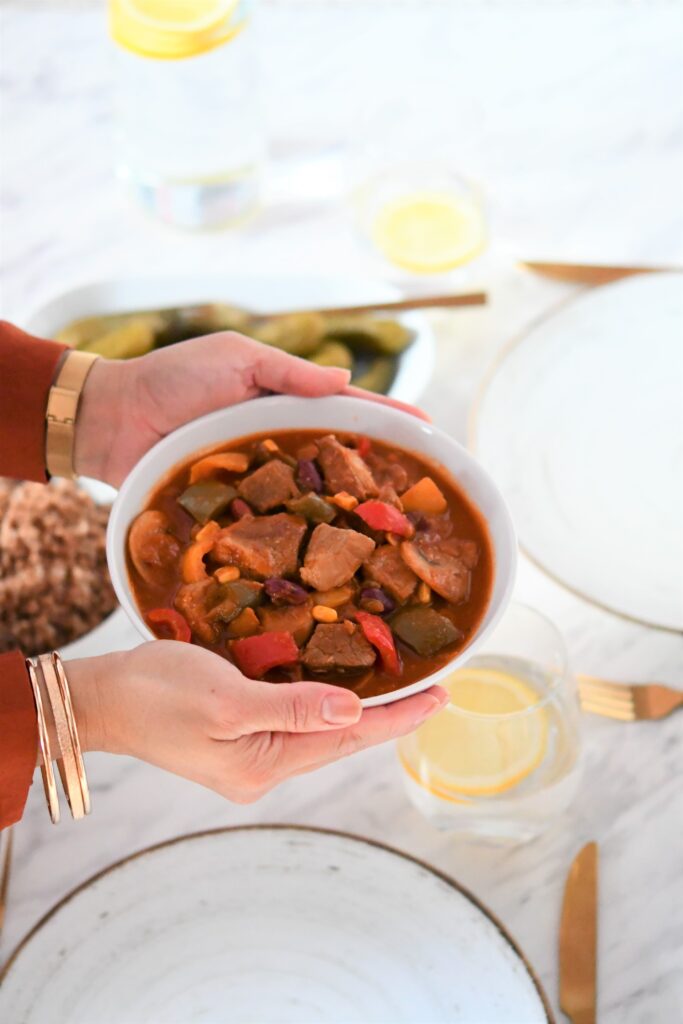 Ingredients:
1 kg of pork shoulder, cut into cubes
1 medium white onion, diced
1 medium red onion, diced
1 carrot, diced
4 garlic cloves, diced
1 small can of corn (170g)
1 can of red beans (400g)
3 bell peppers (yellow, red, green), cubed
250 g mushrooms, sliced
500 ml of vegetable broth
150 ml of tomato paste
4 teaspoons of sweet chili pepper
1 teaspoon of spicy chili pepper
1 teaspoon of oregano
2 tablespoons of soy sauce
2 bay leaves
4 grains of allspice
salt and pepper to taste
1 tablespoon of olive oil
oil for frying
Procedure:
In a pot, heat the olive oil and simmer both onions, carrots and garlic for 5-7 minutes, stirring occasionally. Add sweet chili pepper, spicy chili pepper, oregano, soy sauce and stir everything. During this time, heat the oil well in the pan. Sauté the meat in batches, gently seasoning it with pepper. Put the fried meat into the pot with vegetables. Pour the hot broth, add the allspice and bay leaves. Mix everything thoroughly and simmer, covered, for an hour or until the meat is tender. Stir the stew occasionally. In the same pan, fry the mushrooms in oil. Add the peppers and cook together for a few more minutes. When the meat is soft, add the fried mushrooms with peppers, corn, beans and mix. Add the tomato paste and mix thoroughly again. Stew for a stew for another 15 minutes. Finally, season with salt and pepper. Serve, for example, with Silesian dumplings, with groats, rice, potatoes or other favorite additions 🙂
Enjoy!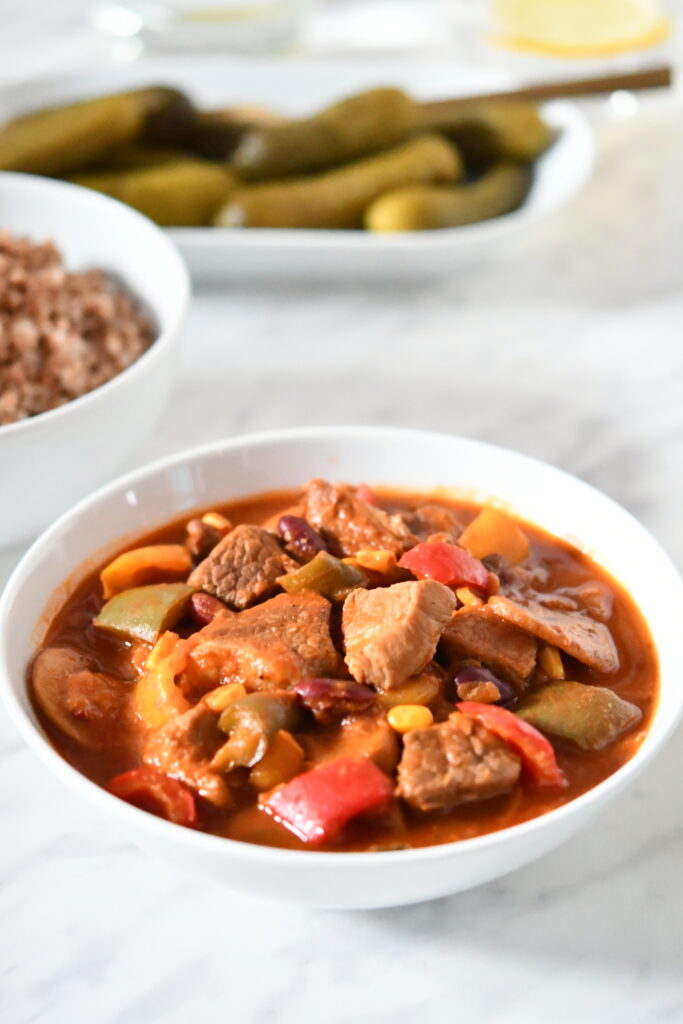 allspice
,
bay leaf
,
beans
,
bell pepper
,
bulion
,
carrot
,
chili pepper
,
corn
,
easy recipes
,
garlic
,
mushrooms
,
oil
,
olive oil
,
onion
,
oregano
,
pepper
,
pork shoulder
,
pork
,
salt
,
soysauce
,
tomato sauce
,
tomatoe