A stew that will surely appeal to everyone. The pepper and tomato sauce is thick and delicious, mushrooms are firm, the meat is tender and juicy, thanks to which we have an aromatic, tasty dish. A perfect dish for cooler autumn days 🙂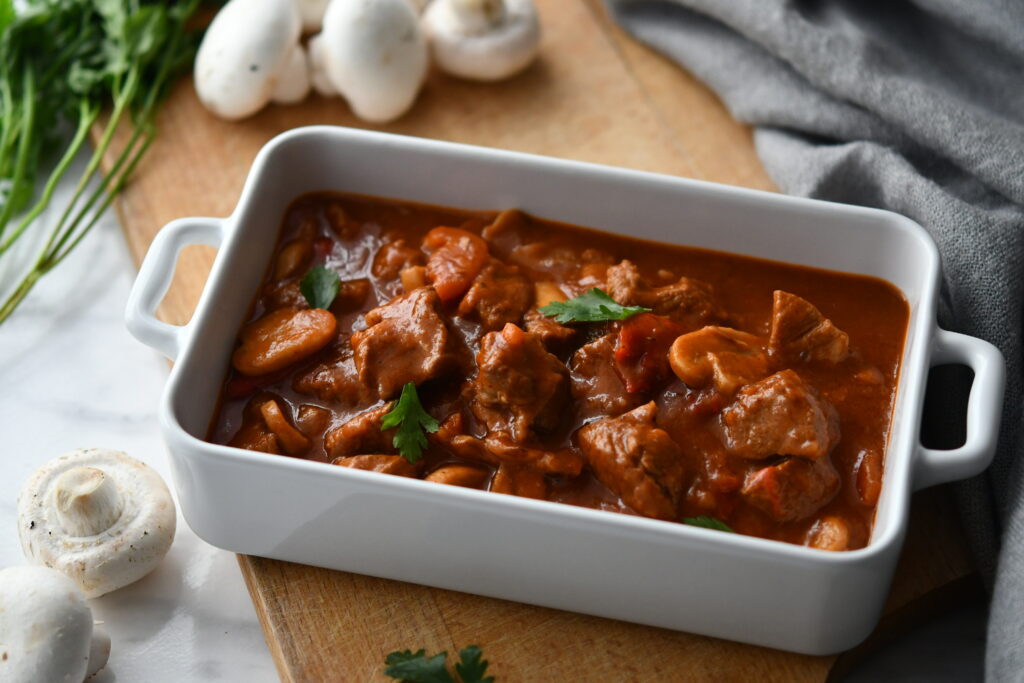 Ingredients:
1 kg of pork shoulder, cubed
1 large onion, cubed
2 garlic cloves, chopped
1 red pepper, cut into large cubes
1 large carrot, sliced
250 g mushrooms, sliced
4 tablespoons of butter
2 tablespoons of flour
1 tablespoon of oil
2 tablespoons of olive oil
2 tablespoons of soy sauce
4 teaspoons of ground sweet pepper
1 teaspoon of hot pepper
2 bay leaves
4 grains of allspice
2 tablespoons of tomato paste
1 liter of hot pork broth
salt and pepper to taste
Procedure:
In a large-bottomed pot, heat the olive oil over low heat. Add the onion and garlic. Fry them together until they are slightly soft. Add carrots and peppers, stew them together for a few minutes, stirring occasionally (you can add a little olive oil). At the same time, sauté the meat. Heat the oil in a pan over high heat. When the pan is hot, add the meat in batches to brown it until golden. While frying, lightly season the meat with salt and pepper. Add meat to vegetables, add allspice, bay leaves, both ground peppers and soy sauce. Stir until the ingredients come up together and pour over the broth. Cook, covered, for about an hour, maximum one and a half, until the meat is tender. In the same pan, dissolve 2 tablespoons of butter. Add chopped mushrooms and sauté until golden brown. Add the fried mushrooms to the stew along with the tomato paste and stir thoroughly. In the same pan, melt the rest of the butter. Add the flour and sauté for a while to create a roux. Add to the stew and mix thoroughly to thicken the sauce. Cook for another minute. Goulash tastes great with potato pancakes, mashed potatoes, groats or rice 🙂
Enjoy!