Courgettes are a great vegetable suitable for many dishes. This time I present baked zucchini with delicious stuffing. The twisted flavor with bacon makes the dish brilliant, perfect for lunch, dinner and a little larger snack 🙂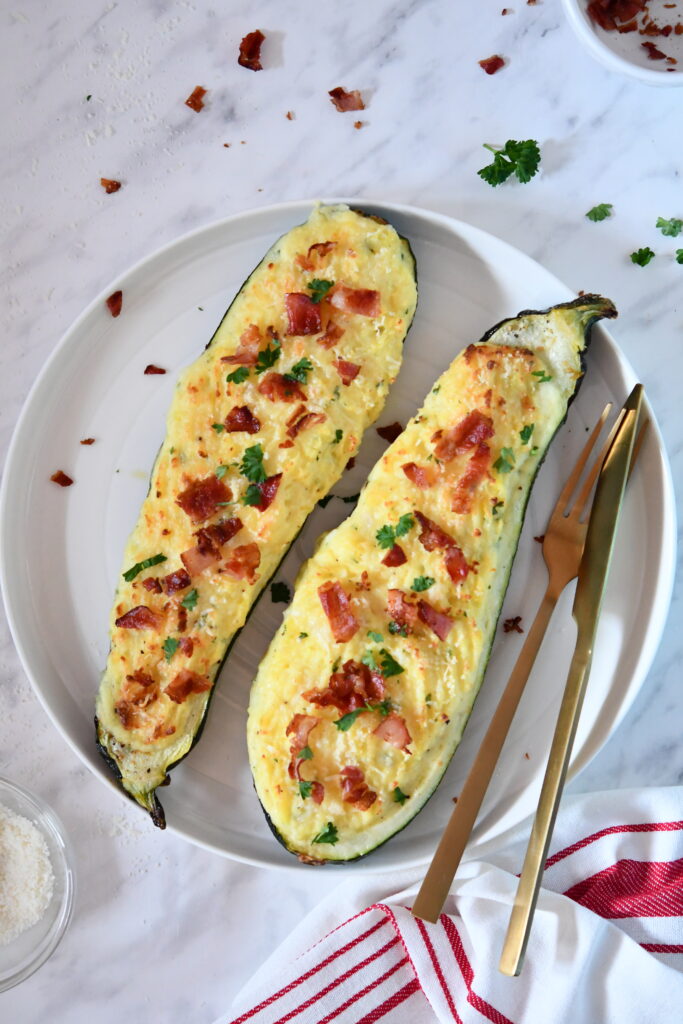 Ingredients:
2 big zucchini, washed, halved lengthwise and seeded
5 medium-sized potatoes, boiled
1 egg
½ cup grated parmesan cheese, plus 4 tablespoons for sprinkling
4 tablespoons cream 18%
2 tablespoons of butter, melted
2 tablespoons of chopped fresh parsley
1 onion, minced
salt and pepper to taste
1 tablespoon olive oil
4 slices of fried bacon, chopped
Procedure:
Preheat the oven to 180ºC. Lined the baking tray with foil. Rub the zucchini with olive oil and sprinkle it with salt and pepper. Bake for 15 minutes. Remove the zucchini from the oven but do not turn off. Meanwhile, place the boiled potatoes into a bowl and mash it with a fork. Add the egg, parmesan cheese, cream, melted butter, chopped parsley, onion and mix. Season with salt and pepper. Stuffed each zucchini and sprinkle it with parmesan cheese. Bake for another 15 minutes or until the cheese turns golden brown. Sprinkle it with crisp fried bacon and chopped fresh parsley if desired 🙂
Enjoy!