Buchi or sesame balls is one of my favorite Filipino treats. It is a deep-fried snack or dessert made from glutinous rice flour filled with sweetened mung bean paste and coated with sesame seed. It can also be filled with a lot of variations such as sweetened red beans, purple yam, cheese or nutella. There are a lot of buchi that can be found in fast food chains in the Philippines but you can also make it at home. Delicious treat for the whole family! 🙂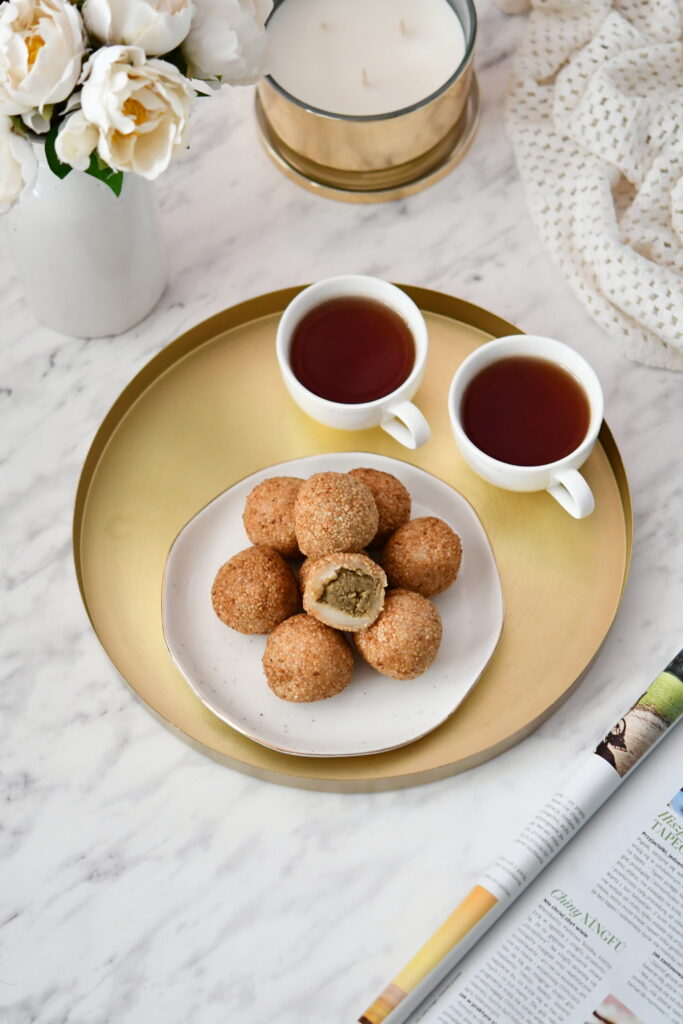 Ingredients:
Mung Bean Filling:
1 cup mung beans
½ cup white sugar
4 cups of water
Buchi:
1 ½ cups glutinous rice flour
¼ cup brown sugar
pinch of salt
¾ cup warm water
½ cup of sesame seed for coating
1-2 cup of oil for frying
Procedure:
Mung Beans Filling:
Rince the mung beans in running water using a strainer. Place into a pot and pour in the water. Cook into a medium heat for 30-35 minutes or until softens and water has absorbed. Check regularly if beans need more water. Once the beans have softened, blend it using a hand blender. Add sugar and mix until well blended and turned into a thick paste. Let it cool and set aside.
Buchi:
Mix sugar, salt and warm water into a bowl. Stir until sugar has dissolved. Add the glutinous rice flour slowly and mix. The dough should be smooth and moist but does not stick into your hands. You can adjust by adding a little water or glutinous rice flour. Divide the glutinous rice flour mixture and form into 1-inch sized balls. Flatten each ball and add 1-½ tablespoon of the mung beans filling in the middle. Stretch the flatten ball to cover the filling and roll it around your palm. Roll and coat it with sesame seeds. Repeat the process until it is finished. Once done, heat oil into a pot. Fry the balls in batches. Once balls are into the pan roll them around to not stick into the pot. Continue frying until golden brown. Serve hot. 🙂
Enjoy!