A slightly modified one-pot recipe by Polish cook Karol Okrasa for a refreshing, delicious and simple stew. Fresh herbs perfectly emphasize the taste of the dish, honey adds light sweetness, lemon acidity, and delicious mushrooms with wonderful, delicate meat perfectly complement this dish. The perfect recipe for a regular lunch as well as a dinner for guests 🙂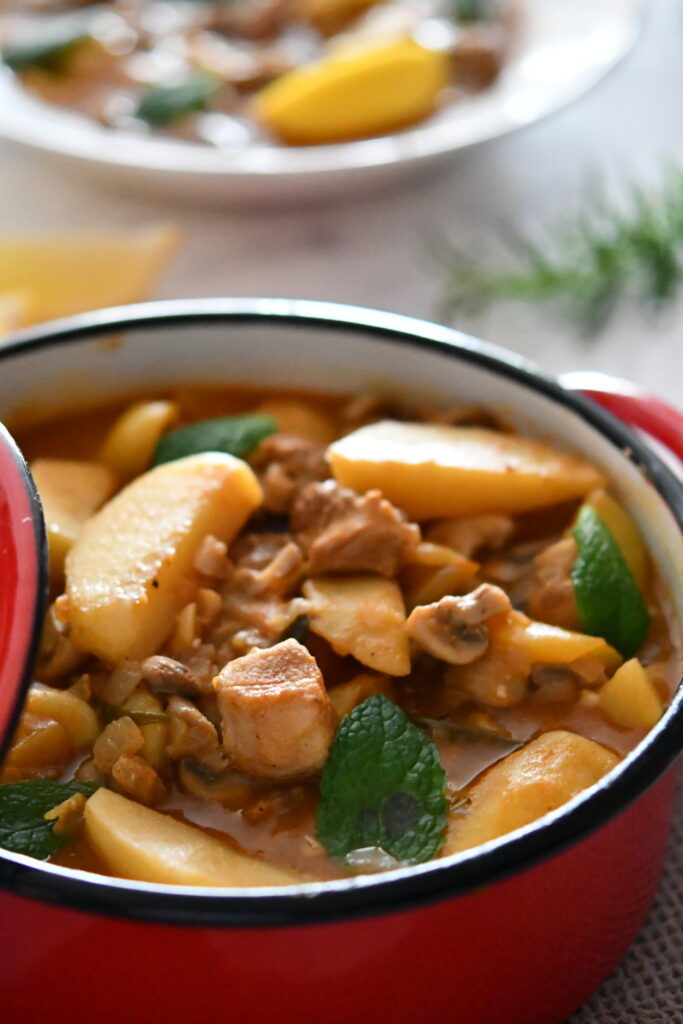 Ingredients:
1 kg of pork shoulder, diced
500 g mushrooms, quartered
2 onions, cut into large cubes
1 yellow pepper, cut into large cubes
3 garlic cloves, sliced
2 tablespoons of tomato paste
half a lemon juice
700 g of potatoes, cut into large pieces
1 tablespoon of honey
2-3 tablespoons of wheat flour
2 sprigs of fresh rosemary
a handful of fresh mint chopped
salt and pepper to taste
frying oil
1 teaspoon of ground hot pepper
1 liter of boiling water
Procedure:
Mix the meat with salt and pepper and coat in flour. Heat the oil in a pan and fry the meat in batches until golden brown. Transfer them to the pot in which you will cook the stew. In the same pan, add a little oil and sauté the onion and garlic. After 3 minutes, add the paprika and simmer together for a few minutes. Add tomato paste, hot pepper, mix everything thoroughly and add to the meat. Pour boiling water over the pans, take the flavor from the pan and pour it into the pot with the meat. Simmer the stew for over an hour. When the stew is almost ready, prepare the mushrooms. In the same pan, add a little oil (make sure the pan is dry) and fry the mushrooms over high heat. Season with salt and pepper and fry until the mushrooms are golden brown. Transfer the mushrooms along with the water to a separate dish. In the same pan, fry the potatoes in a little oil. Season them with salt and pepper, add a sprig of rosemary (at the same time add the second sprig of rosemary to the stew), add a little water and stew the potatoes in this steam for about 15-20 minutes, until they are soft. After this time, remove a sprig of rosemary from the stew, add potatoes and mushrooms to it with water and mix. Add honey, mint and lemon juice and cook for another minute. Possibly season to taste. Serve with mint leaves and lemon. Goulash tastes great as a separate dish and can also be served with rice 🙂
Enjoy!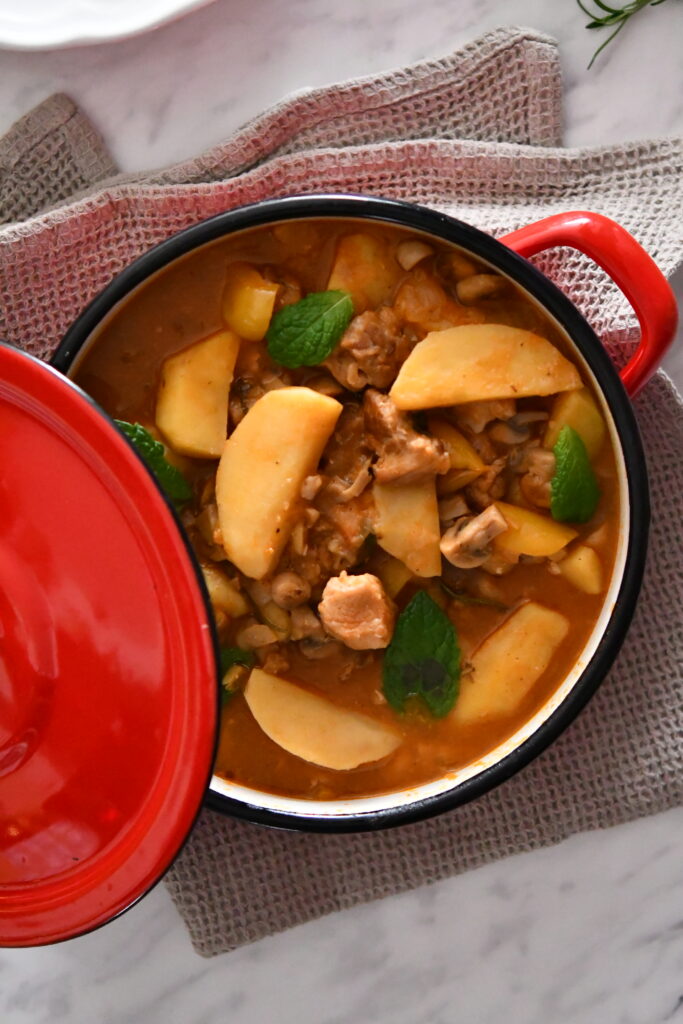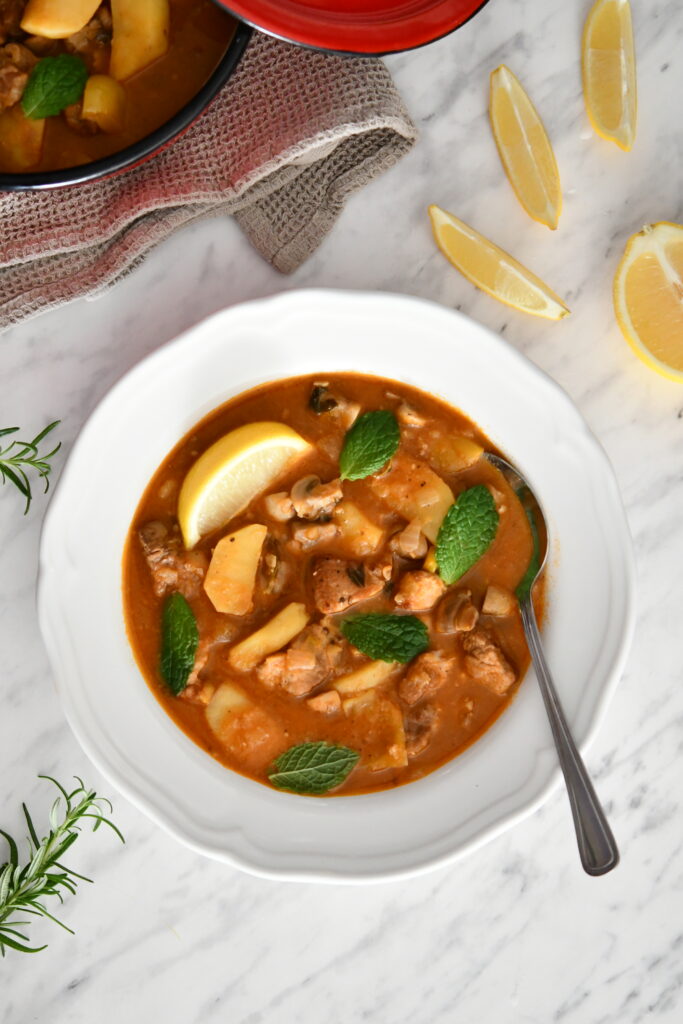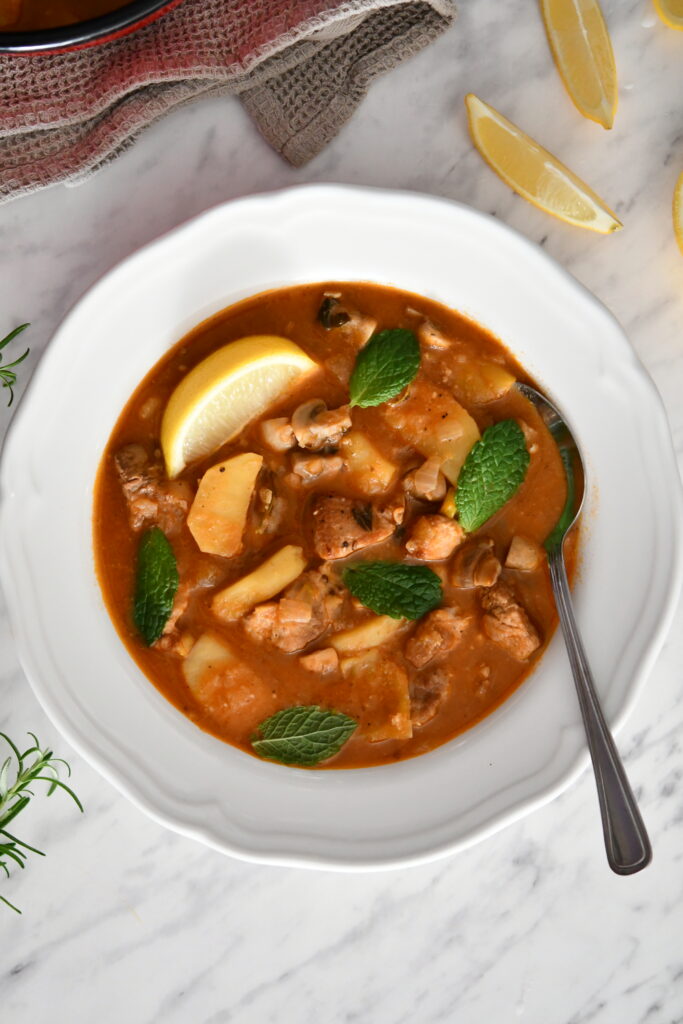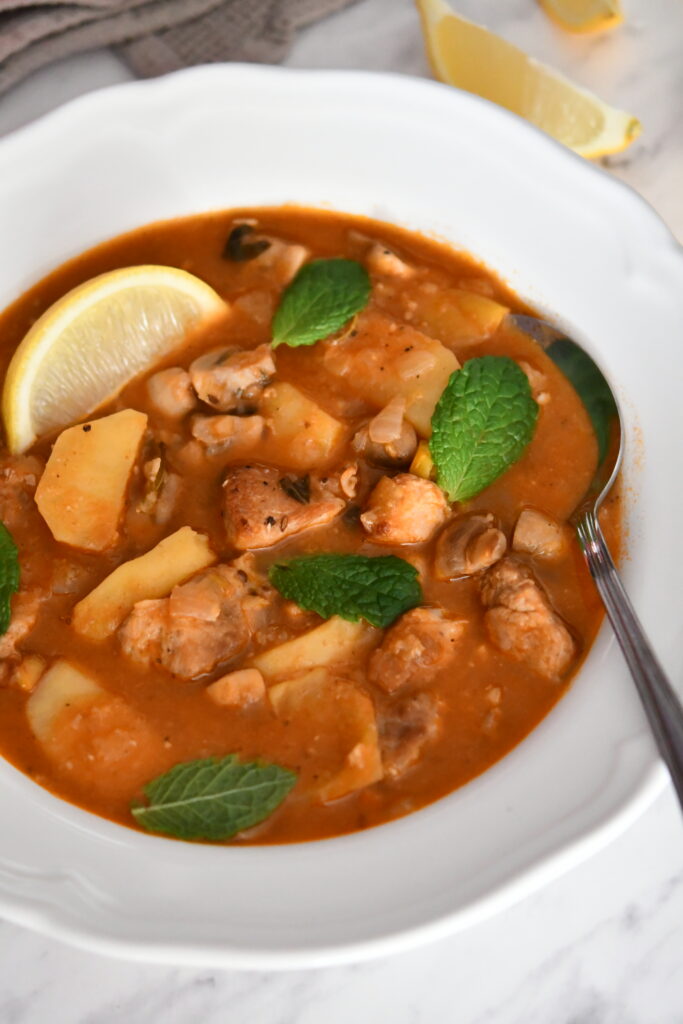 bell pepper
,
easy recipes
,
flour
,
garlic
,
honey
,
lemon juice
,
lemon
,
mint
,
mushrooms
,
oil
,
onion
,
pepper
,
pork shoulder
,
pork
,
rosemary
,
salt
,
tomatoe
,
water