Sliced shoulder prepared in sauce is a classic of Polish cuisine. You can prepare such a shoulder just like pork chop in gravy sauce. Here, the sauce has been slightly enriched in taste, and the slightly fatty shoulder perfectly complements this sauce. A simple and delicious dish perfect for dinner 🙂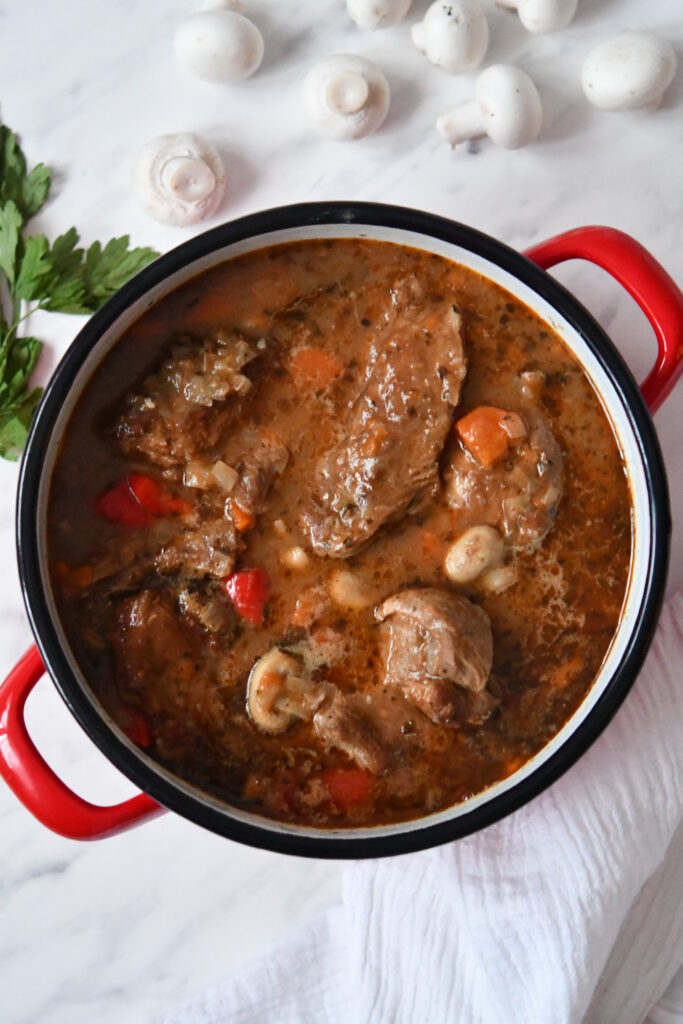 Ingredients:
1 kg pork shoulder cut into slices
2 onions, cubed
1 carrot, diced
4 garlic cloves, minced
100 g mushrooms cut into smaller pieces
50 g red pepper, cubed
1 tablespoon of sweet pepper powder
1 teaspoon of smoked pepper powder
1 teaspoon of marjoram
2 grains of allspice
2 bay leaves
500 ml of hot broth or broth from yesterday
oregano (optional)
salt and pepper to taste
half a glass of lukewarm water
a spoonful of flour
oil for frying
Procedure:
Rub the meat with sweet pepper powder, smoked pepper powder, salt and pepper. Heat the oil over high heat and fry the shoulder slices on each side. In the second pan, fry the onion with carrots and garlic. Add the vegetables to the fried meat, pour the whole thing with hot broth and add bay leaves with allspice. Simmer for about 40 minutes. During this time, fry the mushrooms, and when the mushrooms are brown, add the paprika and oregano, fry together for a moment. Add the contents of the pan to the meat and simmer covered for 20 minutes. If the meat is not tender after this time, cook for another 10 minutes. Mix flour with water and add to the pot with meat, mix thoroughly. Season to taste with salt and pepper. Serve warm with potatoes, noodles or groats.
Enjoy!