Beautiful meringue cake with tangerine motif. Great, sweet, crisp meringue, perfect cream and wonderful tangerine topping – all these ingredients make a really delicious dessert. Add fresh tangerines and we have an elegant, tasty delicacy for every occasion 🙂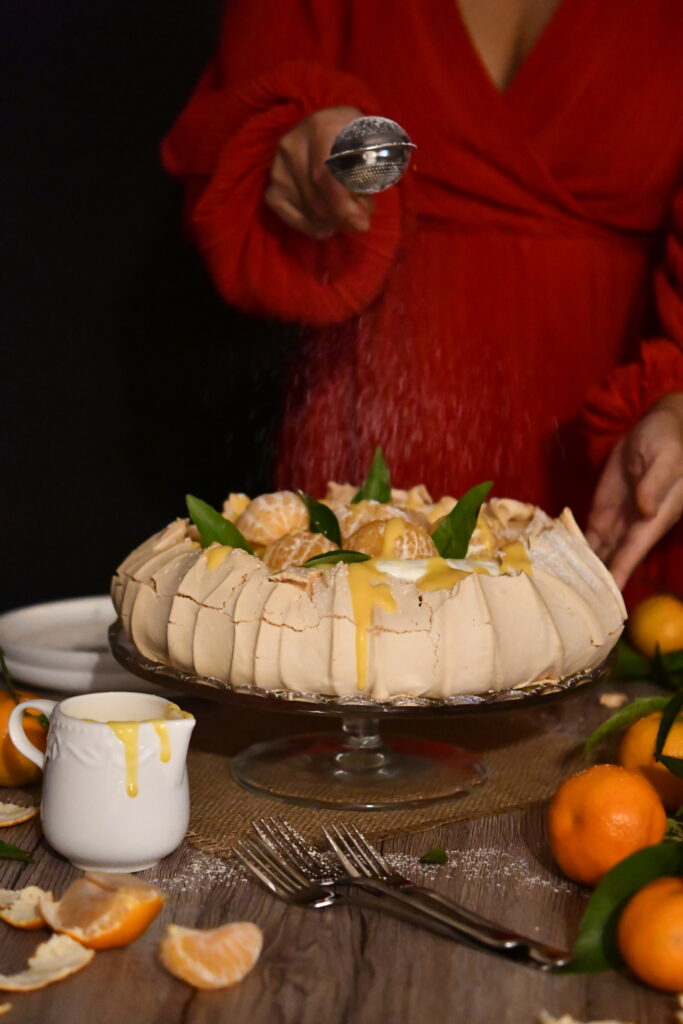 Ingredients:
Meringue:
6 egg whites
300 g sugar
1 tablespoon of lemon juice
1 tablespoon of potato flour
pinch of salt
Tangerine curd:
1 egg
2 yolks
50 g of sugar
1 tablespoon tangerine zest
1/2 cup of squeezed tangerine juice
40 g of butter
pinch of salt
Cream:
200 g heavy cream
250g mascarpone
2 tablespoons of powdered sugar
Toppings:
5-6 pieces tangerines
powdered sugar for dusting
Procedure:
Meringue:
Beat the egg whites until stiff, adding a pinch of salt and sugar in batches. The whipped egg whites must be thick and shiny. Finally, add lemon juice and flour. Stir gently. Put the mass on a baking sheet lined with baking paper, forming a circle, creating a little well in the center to hold some of the filling later. Decorate the sides with swirls with the back of a spoon or offset spatula in whatever pattern you'd like. Put in the oven preheated to 150ºC and bake for 2 hours. Then turn the oven off and leave the meringue in the closed oven to continue cooling, at least 4 hours, but preferably overnight.
Tangerine Curd:
Combine the egg and yolks, sugar, juice, zest, and a pinch of salt in a medium saucepan over medium heat. Allow to cook, stirring constantly, until thick enough to coat the back of a spoon. Remove from heat and add in the butter. Stir to combine until all the butter has melted and been incorporated. Allow to cool then keep in the refrigerator until ready to assemble.
Cream:
Whip the cream with powdered sugar, then add the mascarpone. Mix everything until you get a smooth cream.
Assemble:
Place the meringue on a large serving platter or a cake stand. Top with whipped cream then dollop over the tangerine curd. Decorate with fresh tangerines and sprinkle with powdered sugar. Serve immediately 🙂
Enjoy!