A tasty and simple recipe for extremely delicious pork tenderloin in a creamy sauce. Juicy, tender meat goes well with Black Forest ham and slightly salty cheese, and the creamy sauce together makes a great dish. This dish is perfect for everyday lunch and a celebration 🙂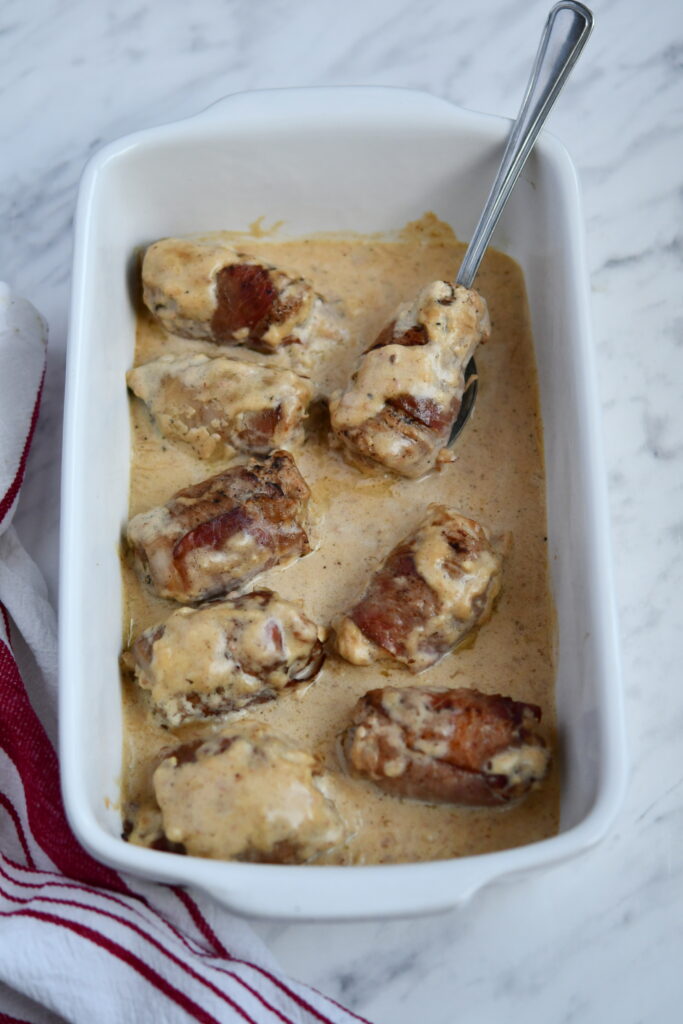 Ingredients:
2 pork tenderloin
150 g of Black Forest ham (can be also bacon slices)
100 g of yellow cheese
200 ml of sour cream 18%
200 ml of 30% cream
1 tablespoon of flour
2 tablespoons of butter for frying
salt and pepper to taste
Procedure:
Cut the tenderloins into 1½ centimeter strips and break them into pieces of meat suitable for rolling. Sprinkle salt and pepper on one side of the tenderloin, add a piece of cheese, roll it and then wrap it with a strip of Black Forest ham. Repeat for all pieces of tenderloin. In a frying pan over high heat, melt the butter. When the butter is hot, fry the tenderloin rolls on each side and transfer to an ovenproof dish. Preheat the oven to 170°C (top – bottom) and put in the sautéed tenderloin for 15 minutes. During this time, mix both cream with a tablespoon of flour in a bowl. Pour the mixture into the pan on which the tenderloins were frying (there should be quite a lot of butter left) and bring to a boil. Season to taste with salt and pepper and stir occasionally. After 15 minutes of roasting the tenderloin rolls, pour the sauce over them and bake for another 5 minutes. Serve with potatoes and your favorite salad 🙂
Enjoy!