After a delicious crispy pata – deep-fried crispy pork leg in the Filipino style, I decided to prepare a pork knuckle in the Polish version. Preparation is simple, because we first boil it in broth, and then bake it in the oven (and then the broth can be used for soup, thanks to which we have a two-course dinner). The meat is juicy, the skin is tender, and the taste is simply brilliant. The perfect way for a tasty and effective dinner 🙂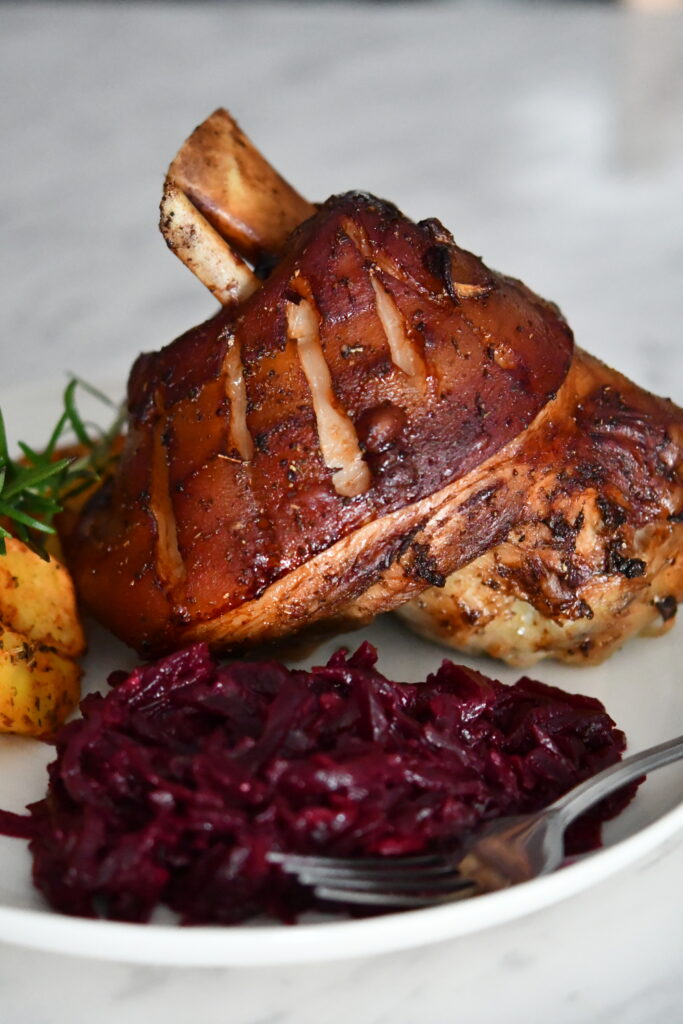 Ingredients:
rear pork knuckle (1.2 kg)
2 carrots
1 parsley
a piece of celery
a piece of leek
onion cut in half and browned
4 grains of allspice
2 bay leaves
5 peppercorns
½ teaspoon of salt
3 liters of water
favorite meat seasoning (I used the pork seasoning)
1 onion, cut into feathers
5 cloves of garlic, peeled
Procedure:
Put the pork knuckle into the pot, pour the water, add allspice, pepper, bay leaves and bring to the boil on a slow fire. Add parsley, celery, leek, roasted onions, carrots, and salt. Simmer for an hour. Take the pork knuckle out of the broth, cut the skin and coat in meat seasoning. In a casserole dish, add onion, garlic, 1½ cup of broth and the pork knuckle (you can use the rest of the broth, for example, for ramen soup). Bake the pork knuckle for about 1½ hour at 170°C (hot air), watering it with the sauce every 20 minutes. Serve with baked potatoes and your favorite salad 🙂
Enjoy!