Crispy Pata is a traditional Filipino dish consisting of whole pork legs, but it can also be made great by pork knuckle. Deep-fried pork meat creates an incredibly delicious dish with juicy meat and perfectly crispy. This dish is special to me, because my husband and I ate Crispy Pata during our first trip together in Manila and it's one of his favorites 🙂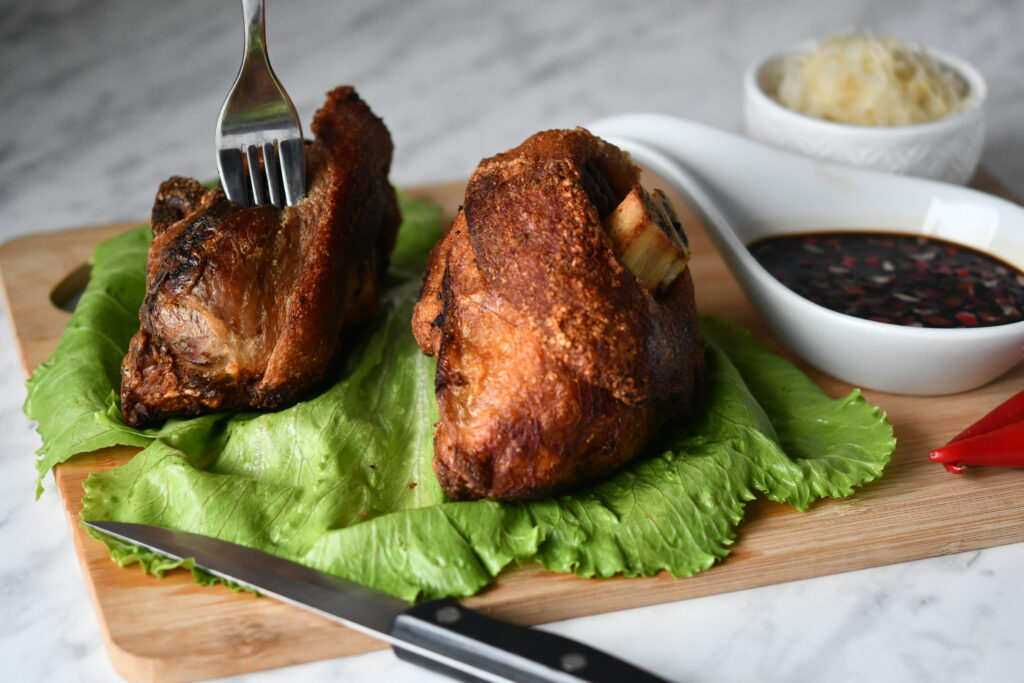 Ingredients:
2 pieces pork legs
½ teaspoon of peppercorn
1 tablespoon of salt
3 garlic cloves, crushed
1 medium size red onion, quartered
3 pieces of bay leaves
salt and pepper
5 cups of water
3 cups of oil
Procedure:
Place the pork legs into a big pot. Add peppercorn, salt, garlic, onion and bay leaves. Pour in the water and cover and cook over a medium heat for 1 hour or until tender. After this time, remove the pork legs from the pot. Place into a colander to drain. Allow to sit for an hour to cool. Once cool, rub the pork legs with salt and pepper. Next, heat the oil in a deep pan over medium heat. Deep fry the pork legs until golden brown and crispy then carefully flip to the other side and fry. Serve with atcharang papaya or pickled cabbage and soy sauce and vinegar dipping sauce.
Enjoy!