Ramen soup is a very popular Japanese soup. This dish is based mainly on red meat with fresh vegetables. The exotic taste of the soup is given by coriander, ginger and soy sauce, and the addition of crunchy meat and eggs perfectly emphasize the taste. Homemade pasta will make this dish perfect 🙂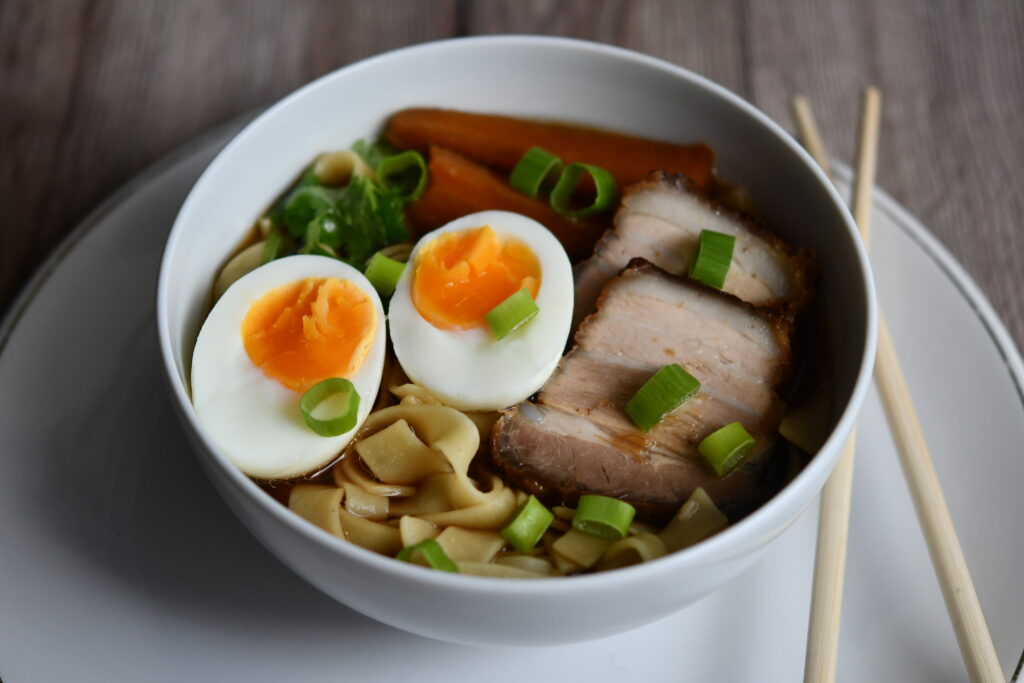 Ingredients:
1 kg of bacon with skin
1 liter of water
2 liters of beef broth
1 onion, cut into quarters (with skin)
2 carrots, cut into large strips
6 garlic cloves, crushed
1 star anise
4 cm of ginger (unpeeled)
4 tablespoons of soy sauce
6 peppercorns
2 spring onions, chopped
2 sprigs of fresh coriander
5 soft-boiled eggs
salt and pepper
Preparation:
Pour the bacon with water. Boil it slowly and remove the scum. Add hot broth, onion, carrot, garlic, star anise, ginger, pepper and soy sauce. Cook covered for an hour. After this time, pull out the bacon. Dry the meat, rub with salt and pepper. Preheat the oven to 220ºC. Put the bacon in and bake for 30 minutes. Serve the soup with homemade noodles, bacon slices, a soft-boiled egg in halved, chopped spring onions and coriander 🙂
Enjoy!