Almost everyone loves baked chicken. It is a delicious dish that is easy to make and comes out inexpensively. My husband, however, somewhere found another option to bake a chicken that hangs on a wire rack (chicken, not husband). I thought he was joking, but decided to give it a try. Effect? The chicken is juicy, evenly baked, the skin is crispy, and the dish is delicious. For this, it is great with baked vegetables and we have a simple, delicious lunch 🙂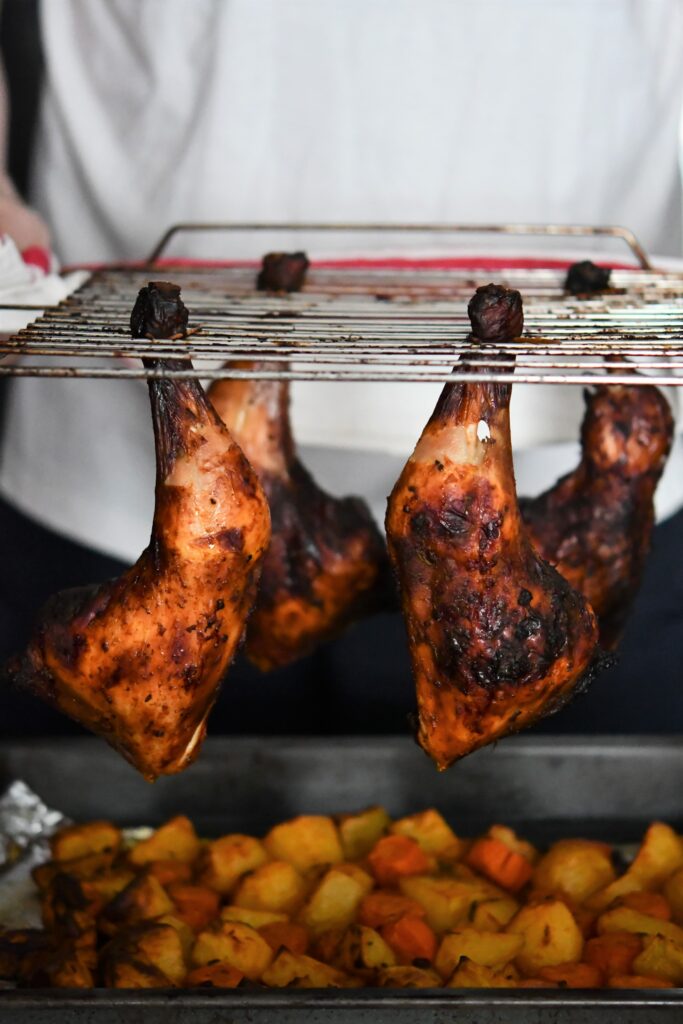 Ingredients:
Chicken:
4 quarters of chicken (thighs with sticks)
Marinate:
2 teaspoons of your favorite mustard
2 teaspoons of ketchup
2 teaspoons of honey
1 teaspoon of sweet pepper
2 teaspoons of turmeric
1 teaspoon of oregano
1 teaspoon granulated garlic
1/4 teaspoon of salt
½ teaspoon of pepper
1 tablespoon of oil
Additional ingredients:
200 g carrots, peeled and cut into slices
1 kg of potatoes, cut into quarters
1 sprig of rosemary, finely chopped
2 tablespoons of oil
2 teaspoons of turmeric
Procedure:
Mix the ingredients for the marinade thoroughly. Rub the chicken with the marinade, set aside for an hour, and it is best to refrigerate it overnight for the ingredients to bite. Mix the potatoes with carrots, oil, rosemary and turmeric. Put the mixed vegetables on a baking sheet covered with foil. Place the thighs over the vegetables and the baking rack on the thighs. Pass the narrow part of the thigh through the wire rack and secure it with two toothpicks so that they hang while baking. Preheat the oven to 160°C (hot air), put the chicken rack on the top shelf and the vegetables on the bottom shelf so that the chicken fat drips over the vegetables. Bake for an hour to an hour and a half, depending on how big your drumsticks are. After this time, take the food out of the oven, get rid of the toothpicks and serve the vegetables with the chicken. You can also mix vegetables with rendered chicken fat 🙂
Enjoy!