My husband's grandmother is preparing a brilliant chicken. The strength of this delicious dish is simplicity, where the ingredients are readily available and the execution extremely simple, the chicken actually does the job. The smell of chicken spreads all over the house, the meat is juicy and in this simple way we can get a great dinner for the whole family 🙂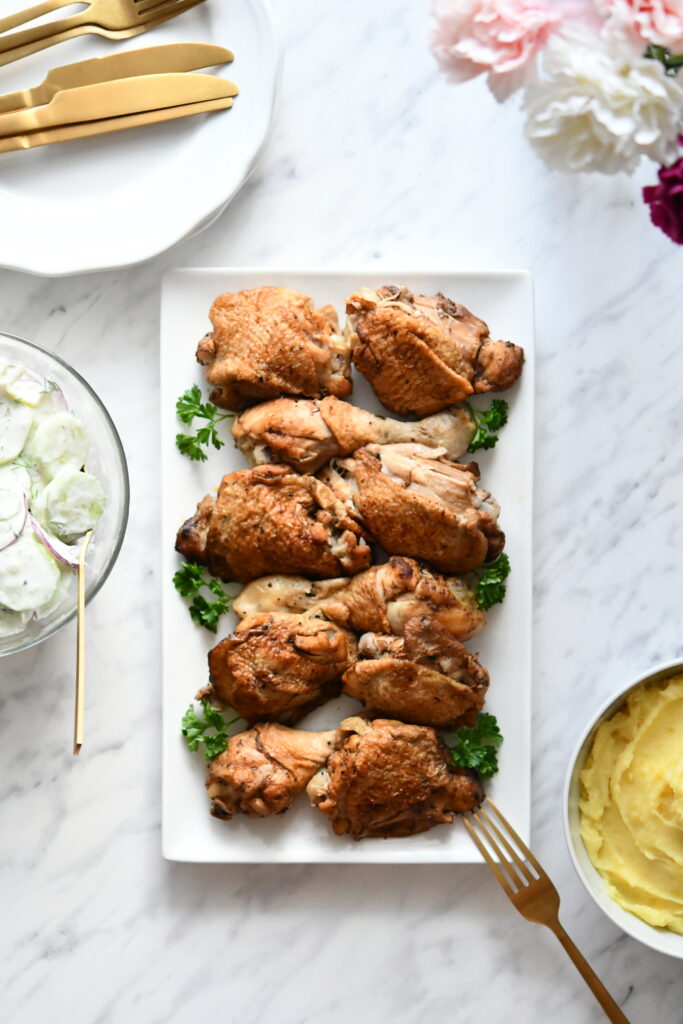 Ingredients:
1 ½ kg chicken thigh and drumsticks
1 onion, peeled and halved
2 garlic cloves, lightly crushed
1 cup of hot water
1 teaspoon of freshly ground pepper
½ teaspoon of salt
1 teaspoon of marjoram
1 teaspoon of sweet pepper
3 balls of allspice
2 bay leaves
oil for frying
Procedure:
Wash the chicken, dry it with a paper towel and sprinkle it thoroughly with pepper, salt, marjoram and sweet pepper. Heat the oil in a frying pan over high heat. Sauté the chicken in batches until golden brown, starting with the skin on. Put the chicken in the pot. Add the onion, garlic, allspice and bay leaves to the pot. Pour water over it and stew, covered, over low heat for 1-½ hours. Serve with potatoes and cucumber salad 🙂
Enjoy!