Fresh chanterelle, creamy sauce, chives and pasta is a perfect mix for a tasty and easy dish. In half an hour you can create a great dinner, where seasonal mushrooms brilliantly emphasize the taste. Quick, simple and delicious 🙂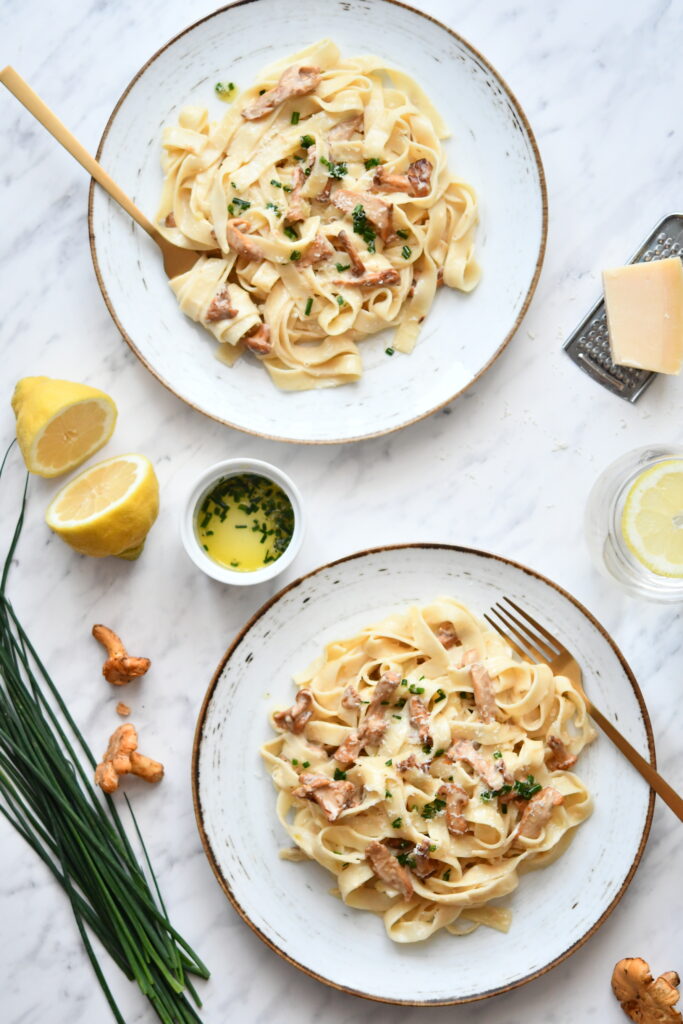 Ingredients:
Chive Pistou:
1 tablespoon fresh chives minced
2-3 tablespoons olive oil
1/4 teaspoon garlic minced
a pinch of salt and pepper
Pasta:
400 g tagliatelle pasta
200g chanterelles, washed and sliced
1 tablespoon garlic, minced
1 tablespoon olive oil
1 tablespoon butter
2 eggs (can be only yolks)
1/2 cup grated parmesan cheese
200 g heavy cream
a pinch of salt and pepper
Procedure:
Chive Pistou:
Combine all the ingredients together in a small bowl and let sit.
Pasta:
Cook the pasta according to the package instructions. Once the pasta is cooked, drain and set aside. In a medium bowl combine eggs, heavy cream, grated parmesan, and a pinch of salt and pepper, set aside. In a large pan over medium heat, saute chanterelles and garlic in butter and olive oil for about 3-5 minutes. Remove from heat and add the cooked pasta and egg mixture. Toss together to coat. Serve immediately with chive pistou drizzled over the top and some grated parmesan cheese if desired 🙂
Enjoy!