Tasty, refreshing, sweet and tangy cake perfect for warm summer days. Great for any occasion, especially during the holiday season. With pieces of fruit, lemon and mint, we will get a beautifully looking dessert 🙂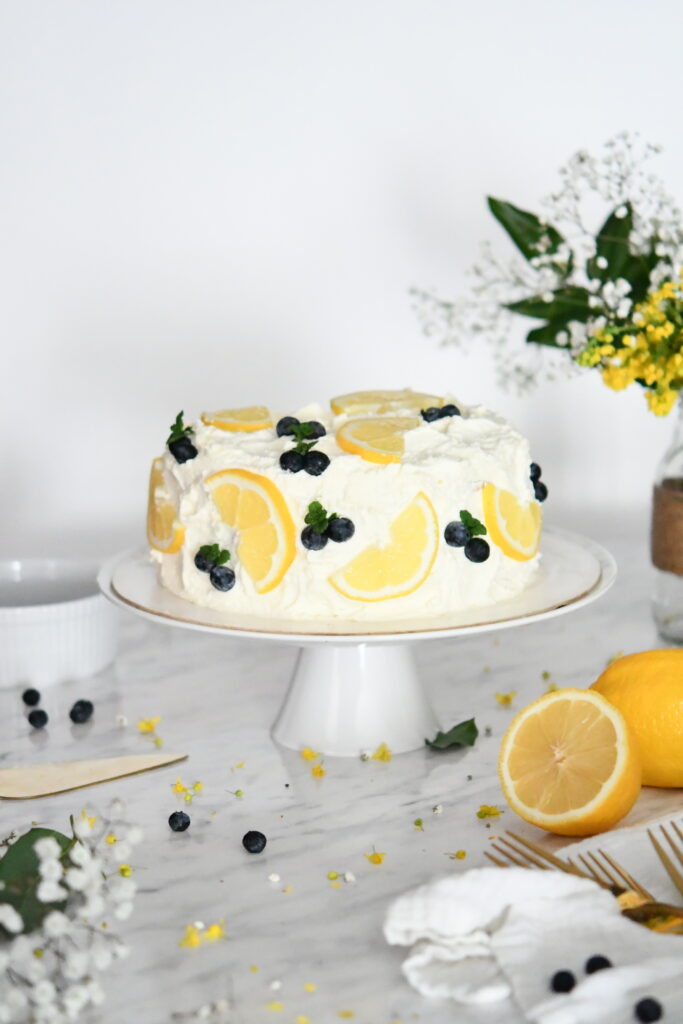 Ingredients:
Sponge Cake (26-27 cm springform cake tin):
7 large eggs
1 cup of plain wheat flour
½ cup of potato flour
1 cup of sugar
1 full tablespoon of vanilla sugar
1 teaspoon baking powder
2 tablespoon of water
Lemon Curd:
⅓ cup sugar
3 large eggs
1/4 cup fresh lemon juice
2 teaspoons lemon zest
½ cup butter, melted
Frosting:
1.5 l of cream 36%
250 g of mascarpone cheese
3 fix creams
16 g of vanilla sugar
powdered sugar to taste
Additional Ingredients:
lemon, slices
200g fresh blueberries
fresh mint leaves.
Procedure:
Sponge Cake:
Separate the yolks from the egg whites. Place the egg whites in a bowl and mix until they form a light foam. While mixing at the highest speed of the mixer, start adding a spoonful of sugar (each next spoon should be added only when the previously added portion is completely dissolved). Add the yolks one by one into the beaten foam, and finally pour in the water. Sift in both flours and baking powder through a sieve and add a spoonful into the egg mass. Line the bottom of a springform pan with a diameter of 26-27 cm with baking paper and divide the dough into it. Place into the oven preheated to 170ºC and bake for about 30 minutes or until the toothpick inserted is dry. Allow to cool.
Lemon Curd:
In a double boiler, whisk together the sugar and eggs until smooth. Whisk in the lemon juice, lemon zest and melted butter. Heat and whisk constantly until it thickens. Do not let the mixture come to a boil. Pour the lemon curd into a glass bowl and cover with a cling wrap. Make sure to press the cling wrap into the top of the curd to avoid film developing. Refrigerate until cold or preferably overnight.
Frosting:
Pour the heavily chilled cream into a metal bowl, add the mascarpone and mix. Add sugar and fix creams while whipping. Whip until stiff whipped cream is obtained. Refrigerate for an hour to thicken.
Assemble:
Cut the cake into three parts. Place the first layer of cake into the cake board. Put the cream into the piping bag. Pipe the cream on the sides of the cake. Put 2-3 tablespoons of lemon curd into the middle and spread evenly. Dot the cream with fresh blueberries. Put the second layer of the cake and do the same. Place the last layer of cake and spread the left cream on top and sides of the cake. Decorate the cake with blueberries, lemon slices and mint 🙂
Enjoy!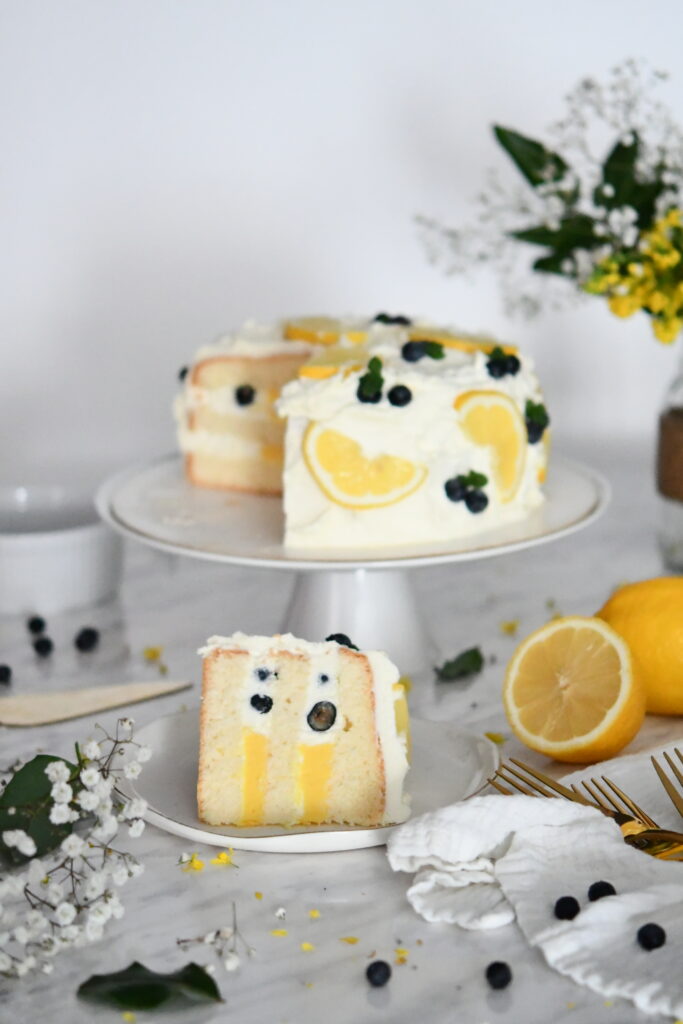 baking powder
,
blueberry
,
butter
,
cake
,
cream cheese
,
cream
,
creamy
,
egg
,
flour
,
lemon juice
,
lemon
,
mascarpone
,
mint
,
oil
,
potato flour
,
powdered sugar
,
salt
,
sugar
,
sweet cream
,
vampire
,
vanilla sugar
,
water