It is not a classic chili con carne, but a slightly modified version of the Polish chef Karol Okrasa. A great way to make a delicious, filling snack with crunchy tortilla flakes and a great meat stew. I advise you to choose the amount of spices yourself to get your favorite, spicy taste 🙂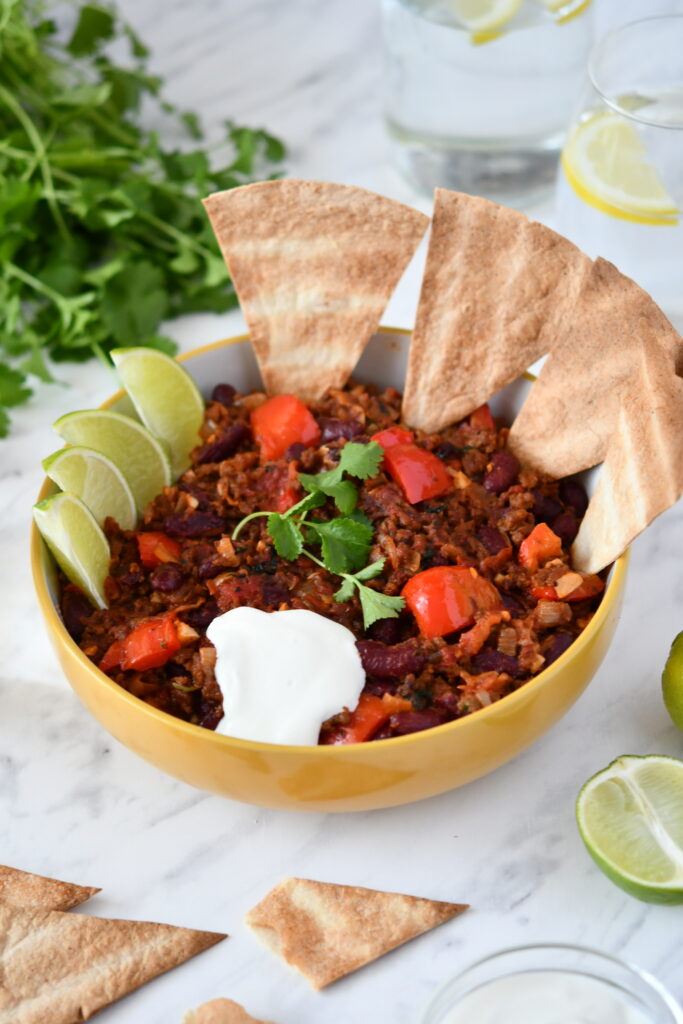 Ingredients:
500 g of ground beef
1 large onion, diced
6 cloves of garlic, chopped
1 chili pepper, chopped
100 g of smoked bacon, cut into small slices
1 can of 400 g sliced ​​tomatoes with marinade
2 teaspoons of tomato paste
1 lime
1 can of 400 g of red beans
1 red bell pepper, cut into large cubes
1 teaspoon of dried oregano
1 teaspoon of hot pepper powder
½ teaspoon dried basil
2 tablespoons chopped fresh cilantro
½ teaspoon of sugar
oil for frying
salt, optional
To serve:
tortillas cut into smaller pieces and heated in an oven at 160°C (top and bottom) until crispy
cream 12%
lime juice
fresh coriander leaves
Procedure:
Heat the oil in a pan over high heat. Add bacon and fry until golden brown. Add the onion, garlic and chili pepper and fry together until the onion is translucent. Transfer the contents of the pan to a bowl. In the same pan, heat the oil again and fry the minced meat. Add the fried ingredients, tomato paste, oregano, hot pepper, basil and mix. Fry a while together. Pour all the tomatoes and half a glass of water, add lime zest, sugar and simmer for about an hour to reduce the sauce (be careful not to overcook). After this time, add the bell peppers, beans and coriander and stew for about 10 minutes. Season with salt to taste. Serve with tortilla, cream, lime juice and coriander leaves 🙂
Enjoy!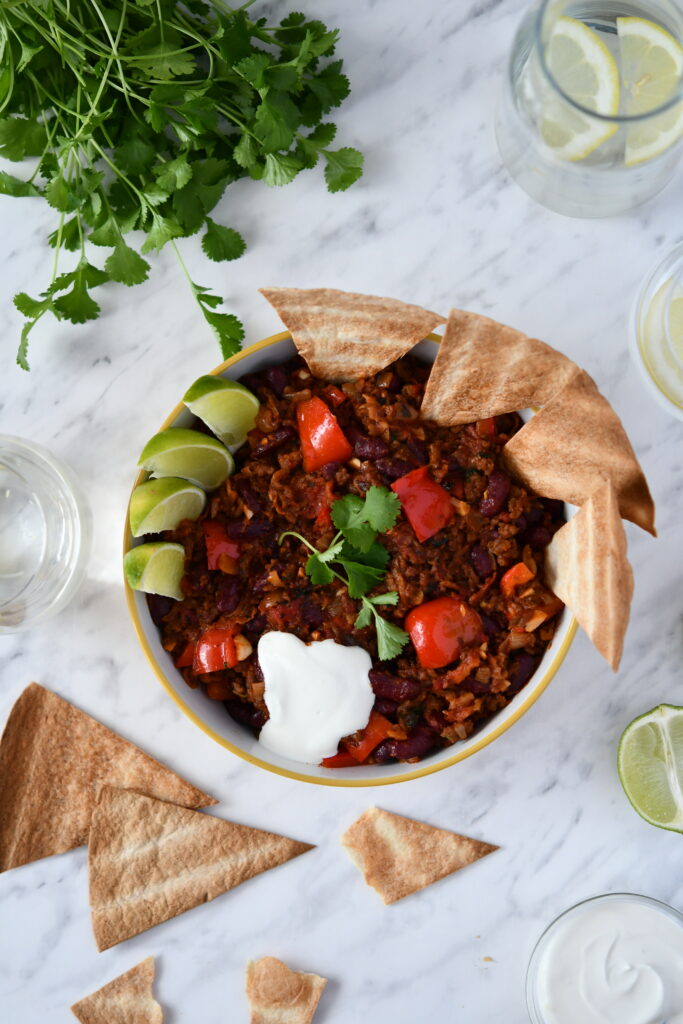 bacon
,
basil
,
beans
,
beef
,
bell pepper
,
chili pepper
,
chili
,
cilantro
,
easy recipes
,
garlic
,
lime
,
oil
,
onion
,
oregano
,
red beans
,
salt
,
sugar
,
tomato sauce
,
tomatoe
,
tortilla chips
,
tortilla