What could be better than a chocolate cake? Chocolate cake with wonderful Oreo cream and extremely tasty chocolate glaze! Quite simple preparation, and the taste is brilliant for a delicious, creamy dessert. Surprise everyone with this beautiful and tasty cake! 🙂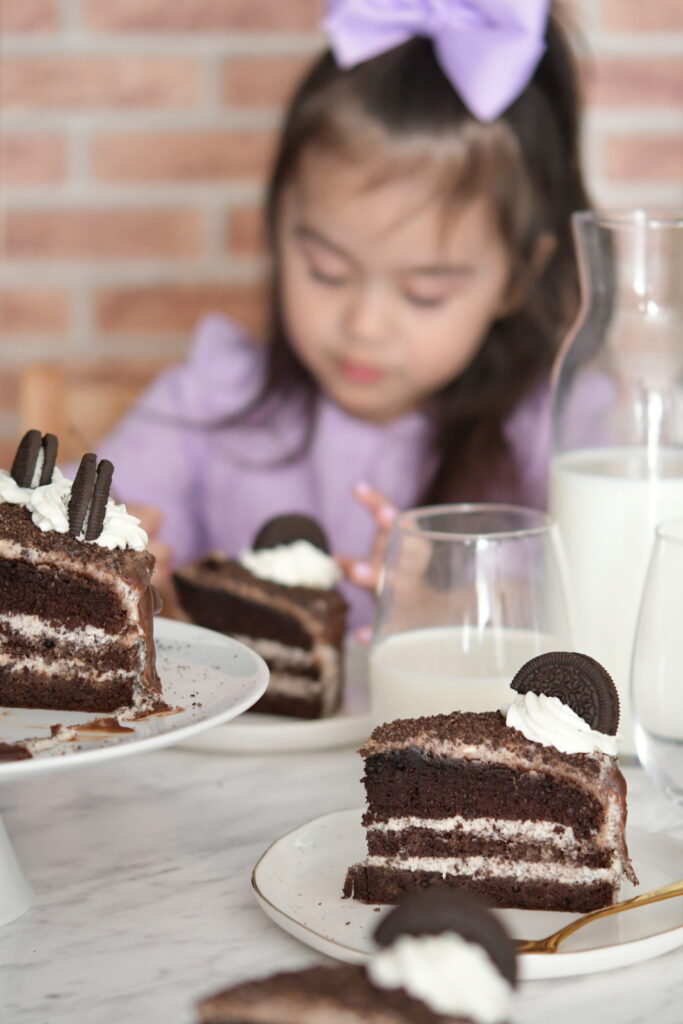 Ingredients:
Chocolate Cake:
4 eggs, in room temperature
32 g of cocoa powder
32 g of flour
½ teaspoon of baking powder
½ cup of granulated sugar
½ teaspoon of vanilla sugar
Oreo Cream Filling:
100 g white of chocolate
35 g of softened butter
250 g cream cheese, at room temperature
250 g heavy cream, chilled
powdered sugar to taste
8 pieces of oreo cookies, pulse it into crumbs, plus for decoration
Chocolate Ganache:
100 g milk chocolate
50 g dark chocolate
20 ml of milk
Procedure:
Chocolate Cake:
Beat the egg whites until stiff, gradually add a spoonful of sugars whisking all the time. Beat for about 3 minutes or until the egg whites are thickened and shiny. Keep whipping, add one yolk at a time. Beat for about 3 minutes or until the mass is very fluffy. Combine cocoa, flour and baking powder and sift into a clean bowl. Add them into the whipped mass, preferably in 3 batches, stirring the mass gently or slowly mixing at minimum speed each time until well combined. Place into a 6 inches round baking tin lined with parchment paper and put in an oven preheated to 170°C. Bake for 25-30 minutes. Allow to cool.
Oreo Cream Filling:
Melt the chocolate in a water bath and let it cool. Once melted chocolate has cooled, add the softened butter and a spoonful of cream cheese, stirring vigorously each time. Whip the cream together with the powdered sugar until stiff. Add it to the chocolate mass in batches, stirring gently with a spoon each time. Gently fold in the half of the oreo cookie crumbs and refrigerate until ready to use.
Chocolate Ganache:
In a saucepan, place the chocolates and milk stirring occasionally until the chocolate has melted (if the ganache is too thick, add milk, if it is too thin, simply keep it on the fire for a longer time). Heat until a homogeneous mass is obtained. Remove from the fire and let it cool.
Assemble:
Cut the cake into three layers. Place the first layer on the cake board and add about ¼ of the cream and spread an even layer towards the edges. Place another layer of the cake and repeat until the last layer of the cake. Spread the left cream over and on the sides of the cake. Drip the cake with chocolate ganache. Sprinkle the top of left oreo cookie crumbs and decorate the cake however you like 🙂
Enjoy!