Previously, I associated pancakes with sweet dishes, but when my husband Bartek told me about the pancake cake, I noticed that the baked pancakes with meat are also delicious. Aromatic, tasty and easy to prepare, baked pancakes with delicious chicken-tomato stuffing and the addition of cheese look elegant on a plate, and they taste delicious 🙂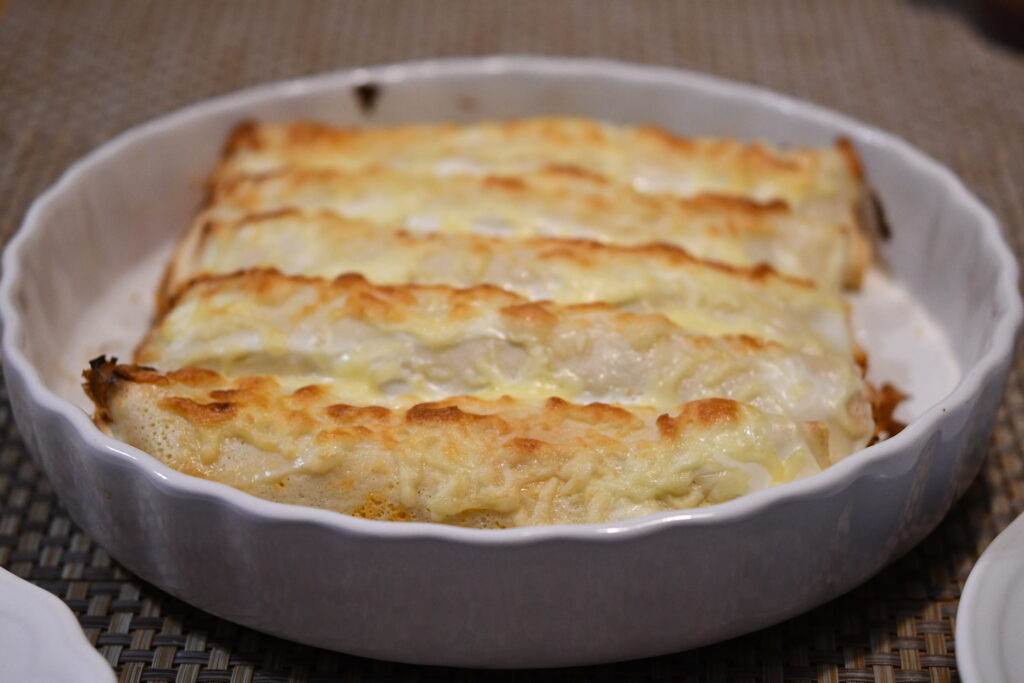 Ingredients:
5 pancakes (recipe)
300 g chicken breast, cut into small cubes
1 medium onion, diced
3 garlic cloves, chopped
1 small carrot, diced
1 small pepper, diced
1 can of sliced ​​tomatoes
120 g of grated yellow cheese
100 ml of cream 18%
1/4 teaspoon of oregano
1/4 teaspoon of basil
1/4 teaspoon of sugar
pepper and salt to taste
oil for frying
butter to grease the dish
Preparation:
Heat the oil in a pan and fry the chicken until golden brown. Add the onion and garlic and fry together until the onion turns glassy. Add carrots and bell pepper, mix and fry together for 2 minutes. Pour in the can of sliced ​​tomatoes and add a little water. Add spices and mix thoroughly. Simmer, uncovered, until the sauce is thick and the water reduces. Set aside to cool. Preheat the oven to 200 ºC. Grease a baking dish with butter or oil. Stuff the pancakes with meat stuffing and half the cheese. Place on a greased dish, brush the top of pancakes evenly with cream and sprinkle with the rest of the cheese. Bake in the oven for about 10-15 minutes, until the cheese melts and turns slightly brown 🙂
Enjoy!