A simple, tasty and filling dish from the oven, perfect for people who don't have much time to spend in the kitchen. The dish actually does the same in the oven, and it also tastes great for the next day, heated in the oven or quickly in the pan 🙂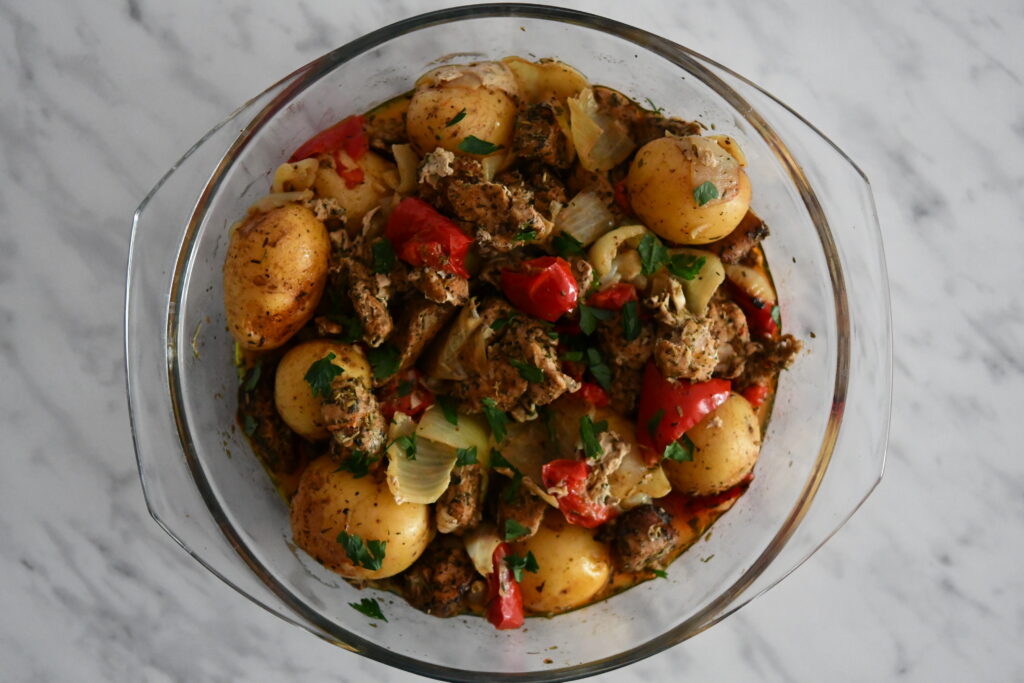 Ingredients:
600 g pork ham, diced (you can also use a shoulder or neck)
1 red pepper, cut into large cubes
1 onion, cut into large cubes
700 g young and small potatoes, skinned (washed)
4 cloves of garlic squeezed through the press
½ teaspoon of rosemary
½ teaspoon of thyme
1/4 teaspoon hot pepper
1 teaspoon of sweet pepper
½ teaspoon of peppercorns
1 teaspoon of salt
4 tablespoons of olive oil
3 teaspoons of provencal herbs
parsley for garnishing
Preparation:
Crush and grind rosemary, thyme, hot pepper, sweet pepper, half a teaspoon of salt and pepper until a fine powder using mortar and pestle so that everything is mixed well. Put the meat, garlic, mixed spices and 2 tablespoons of olive oil in a large bowl. MIx all thoroughly rubbing the meat. Cover the bowl and refrigerate it for at least 3 hours, preferably overnight. Mix potatoes, peppers, the rest of the oil, onion, half a teaspoon of salt and Provencal herbs and add to the meat. Mix everything up again. Transfer all ingredients to the baking sleeve and fasten the sleeve (you can also bake everything in an ovenproof dish with a lid). Preheat the oven to 180ºC and bake it all for about an hour and a half. Garnish with parsley 🙂
Enjoy!