Spicy spices and oranges are a really great addition. More often, these additions are prepared for duck, but why not make chicken in this style. The meat turned out delicious, thanks to the butter, the breasts are also extremely juicy, and the aroma of spices and oranges brilliantly emphasizes this dish, making you feel the Christmas atmosphere 🙂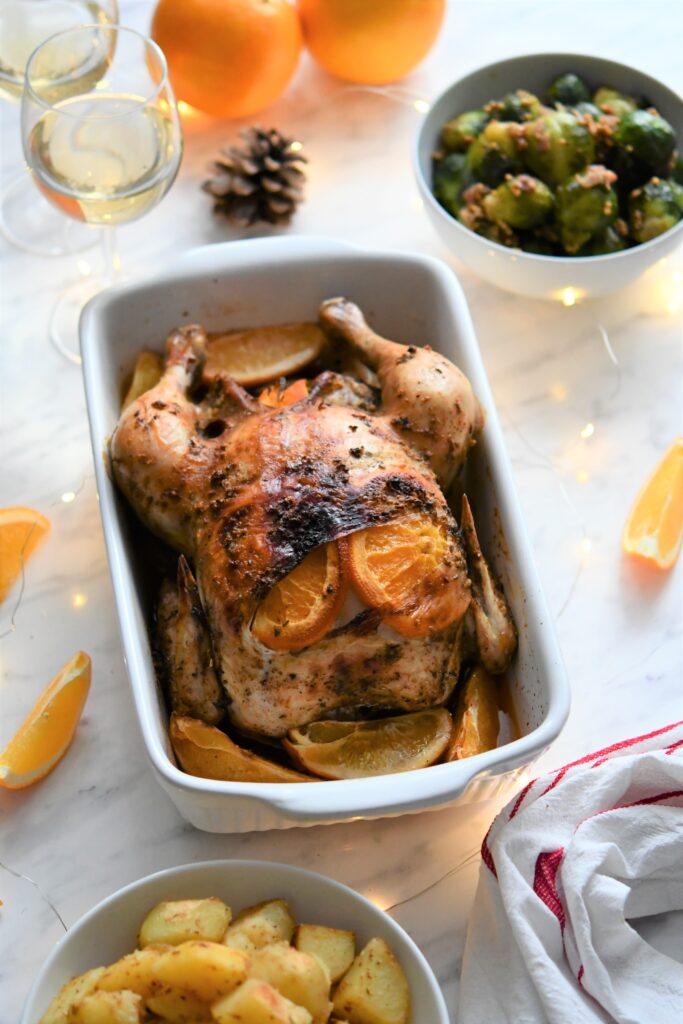 Ingredients:
1 whole chicken (i have 2 kg) washed, cleaned and dried
2 large oranges, scrubbed and blanched
4 cloves of garlic squeezed through the press
2 tablespoons of butter, softened
1 teaspoon of oregano
1 teaspoon of sweet pepper
1 teaspoon of salt
10 peppercorns
3-4 cloves
5 coriander seeds
1/4 teaspoon of cumin
½ teaspoon of ground ginger
Procedure:
Put the oregano, salt, paprika, pepper, cloves, coriander, cumin and ginger into the dish and grate into a fine marinade. Thoroughly rub the chicken on all sides (including the inside) and refrigerate overnight (the spices are aromatic so you can also bake the chicken an hour after marinating). After this time, mix the garlic with the butter. Very gently separate the chicken skin from the breast, I do this with the chopsticks. Butter the breast under the skin (just like on a sandwich) and put in two slices of orange. Put the rest of one orange inside the chicken and spread the rest of the butter on the top of the chicken. Put into an ovenproof dish with breasts up. Cut the second orange into eighths and put around the chicken. Cover the dish with aluminum foil and bake at 180°C (top and bottom) for about 90 minutes. After this time, remove the foil and bake for 25-30 minutes to give the dish a beautiful color. Serve with Brussels sprouts with bacon and baked potatoes 🙂
Enjoy!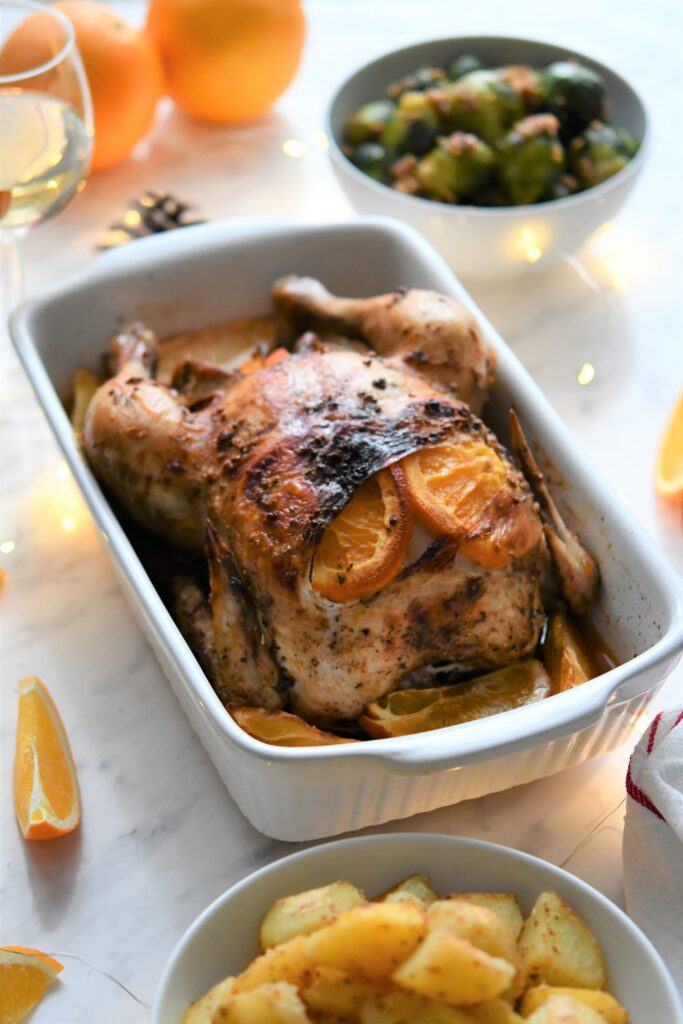 butter
,
chicken legs
,
chicken wings
,
chicken
,
clove
,
coriander
,
cumin
,
easy recipes
,
garlic
,
ginger
,
orange
,
oregano
,
pepper
,
salt