Cheesecake with the addition of pumpkin is a very interesting and tasty variation of dessert. Velvety cream, sweet taste and delicious Oreo biscuits together create a wonderful mixture that will pamper your palate 🙂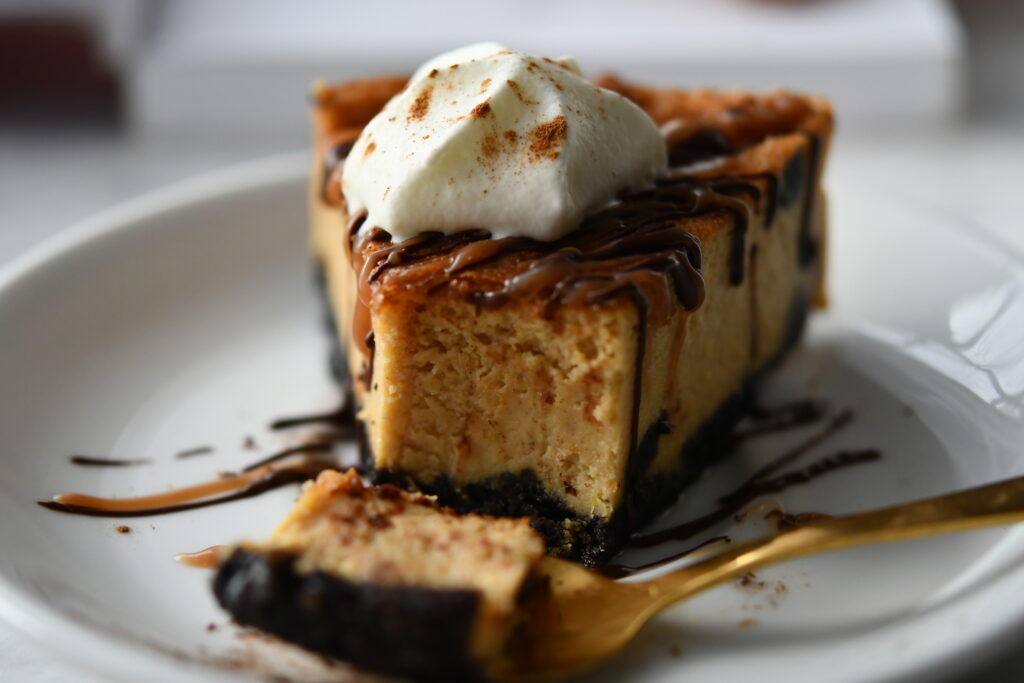 Ingredients:
24 pieces Oreo cookies
60 g melted butter
400 g cream cheese, softened
1 cup pumpkin puree, i used homemade
50 g granulated sugar
70 g brown sugar
200 g sour cream
150 ml cream 30%
2 large eggs, in room temperature
2 tablespoons flour
1 teaspoon pumpkin spice
1 teaspoon ground cinnamon
2 teaspoons vanilla extract
pinch of salt
Other Ingredients:
caramel sauce
chocolate chips, melted
whipped cream
Procedure:
Preheat the oven to 180°C. Place the Oreos into a food processor and grind into fine crumbs (do not remove the filling). Put the Oreo crumbs into a bowl and combine with the melted butter. Pour the mixture into a springform greased with butter or oil. Spread and press evenly on the bottom. Wrap the outside of the springform with aluminum foil. Set aside. Combine cream cheese into a mixing bowl until smooth. Add pumpkin puree, sugars and mix. Pour in the creams and mix well. Add eggs, flour, pumpkin spice, ground cinnamon, vanilla extract and pinch of salt. Mix until well combined. Pour in the cheesecake filling over the prepared crust. Place into the oven tray and pour in water reached halfway up of the tray and bake for 30 minutes. Reduce the heat to 150°C and bake for another 30 minutes. Turn off the oven and leave for an hour. Place the cheesecake into a cooling rack and allow to cool. Refrigerate for 4 hours or a night. Serve with caramel sauce, melted chocolate and whipped cream 🙂
Enjoy!