Trout is a freshwater fish which is very popular and easily available in Poland. Contains lean meat (almost no fat) rich in protein and vitamins. Together with rosemary and lemon, it makes a wonderful dish with delicate meat that literally melts in your mouth. In this way, you can prepare the fish without fat in the oven or on the grill by baking each side for 10 minutes 🙂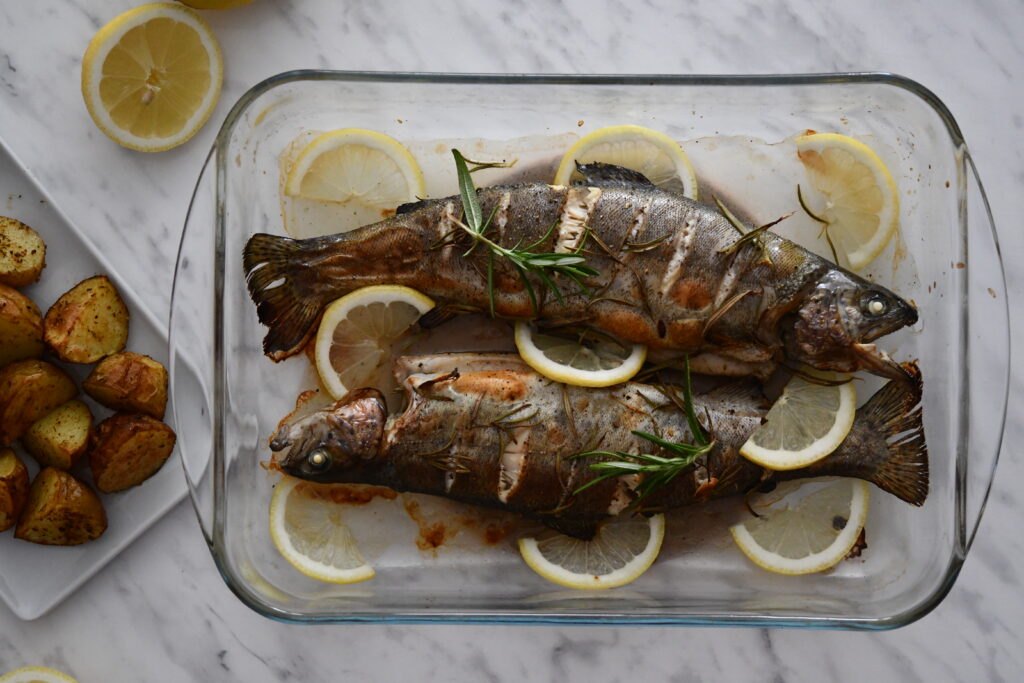 Ingredients:
2 gutted trouts
3 cloves of garlic, finely chopped
juice of half a lemon + half a lemon, cut into crescents for garnish
a few sprigs of rosemary
pepper and salt to taste
Procedure:
Wash the trouts thoroughly, dry and cut the skin. Pour in lemon juice inside of the fish, add a sprig of rosemary, chopped garlic, pepper and salt. Put rosemary leaves in the cuts and drizzle with lemon juice. Season the fish skin with salt and pepper. Put the trout in an ovenproof dish and bake for 25 minutes at 220°C. Garnish with fresh rosemary sprigs and lemon slices. Serve with baked potatoes and your favorite salad.
Enjoy!