Tenderloin is one of my favorite meats. Properly prepared, it is tender and juicy. Together with browned mushrooms and creamy mustard sauce, they create an express and delicious dinner for the whole family 🙂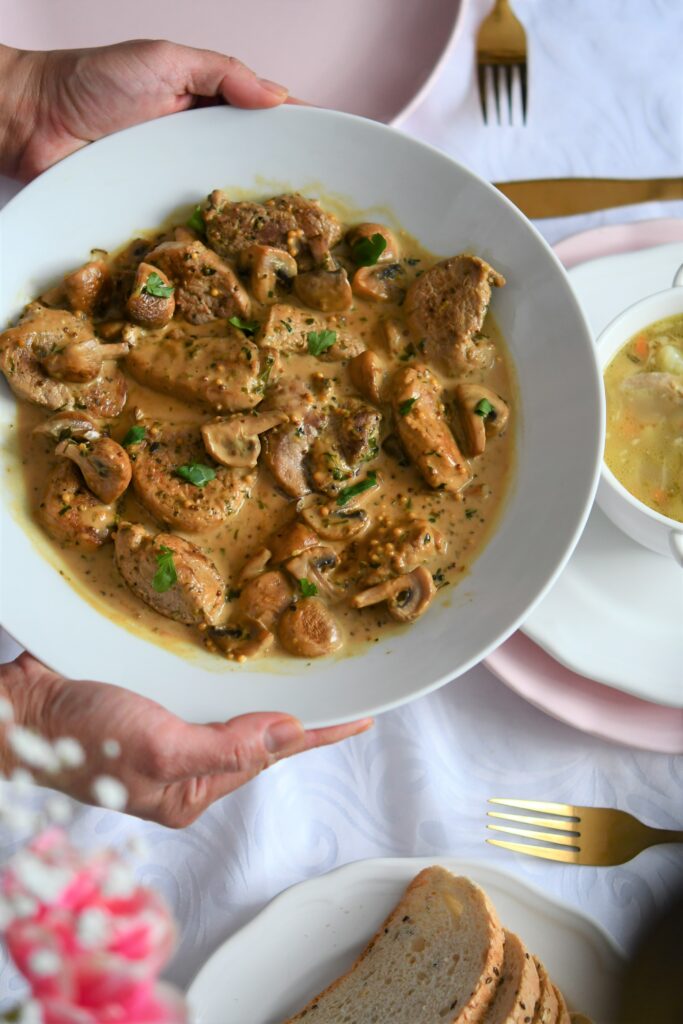 Ingredients:
500 g pork tenderloin, cut into 1½ centimeter slices
400 g mushrooms, quartered
spoon of butter
1 teaspoon of oregano
½ teaspoon of freshly ground pepper
⅓ a glass of white sweet wine
2-3 tablespoons of granular French mustard
1 tablespoon of honey mustard
1 teaspoon of chopped fresh parsley
1 tablespoon of soy sauce
2 tablespoons of olive oil
100 ml of 30% cream
Procedure:
Rub the sirloin with oregano and pepper, set aside. Heat 1 tablespoon of olive oil in a frying pan over high heat and sauté the mushrooms for about 10 minutes, shaking them occasionally. Add butter and cook together for 2-3 minutes to make the mushrooms golden brown. Put the mushrooms in another dish and heat another tablespoon of olive oil in the same pan. Fry the sirloin on each side for a maximum of 3 minutes (over high heat) so that the meat does not leak any juices. At the end of frying, add salt. Pour it all over with white wine and cook until the wine evaporates. Reduce heat, add parsley, soy sauce, and mustard and mix thoroughly. Add the mushrooms and pour the whole cream over it. Cook for a few more minutes to thicken the sauce. Serve with potatoes and your favorite salad 🙂
Enjoy!