Meatballs from IKEA are really popular all over the world, so I was glad when the company released this recipe on the internet. The meatballs are really tasty and the cream sauce completes this dish brilliantly. If you miss this dish during a pandemic, this recipe is for you 🙂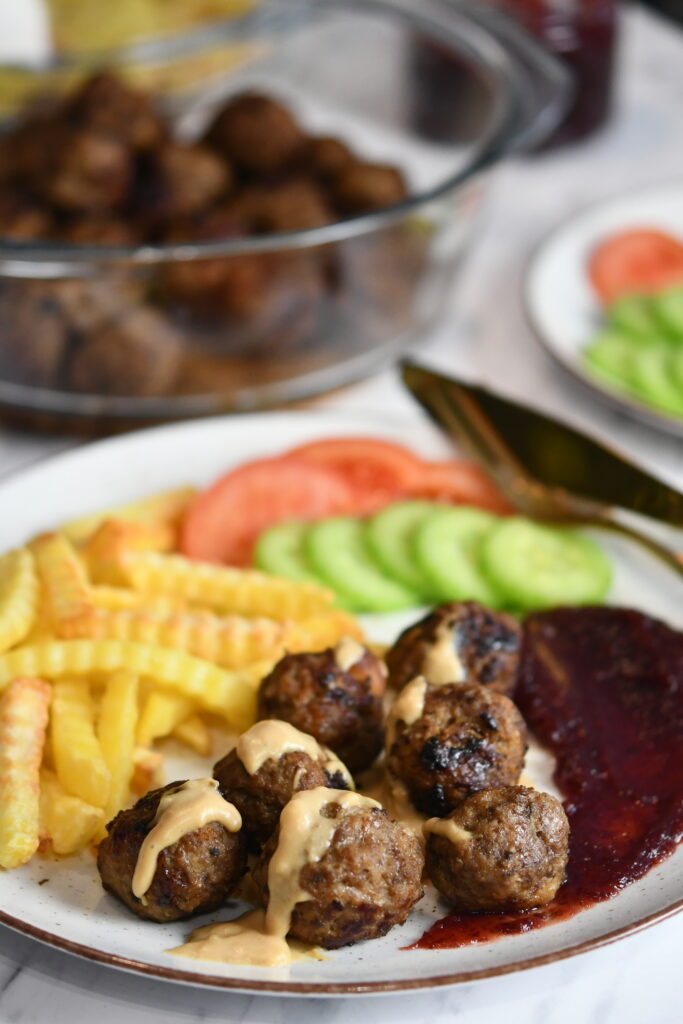 Ingredients:
400 g of ground beef
250 g of minced pork
1 medium onion, finely chopped or blended
2 cloves of garlic, finely chopped or blended with the onion
1 egg
100 g of breadcrumbs
5 tablespoons of milk
salt and pepper to taste
40 g of butter
2 tablespoons of flour
150 ml of vegetable broth
150 ml of beef broth
150 ml of thick cream 18%
2-3 teaspoons of soy sauce
1 teaspoon of your favorite mustard
oil for frying
Procedure:
Put the meat, onion with garlic, egg, breadcrumbs, milk, salt, pepper into a bowl and mix all ingredients thoroughly until smooth. Shape into small meatballs and arrange them on a clean plate. Cover with cling film and refrigerate for 2 hours (I put it overnight), this will keep the meatballs in shape. Heat the oil in a skillet over medium heat and fry the meatballs until golden on all sides. Transfer the meatballs to an ovenproof dish and bake, covered, at 170°C for about 30 minutes. During this time, prepare the cream sauce. In a frying pan over medium heat, melt the butter. Add the flour and cook for 2 minutes, until the butter is well combined with the flour. Pour both broths and stir vigorously until the sauce is smooth. Add cream, soy sauce and mustard, bring to a boil. Simmer until the sauce thickens nicely. Meatballs in cream sauce go great with french fries or with potatoes together with cranberry sauce.
Enjoy!