Recipes in a creamy cheese sauce are always delicious. Plus juicy chicken, your favorite pasta and a great spice mix, we've got a quick, tasty and simple dish for the whole family. Interesting, aromatic and above all, a tasty idea for lunch 🙂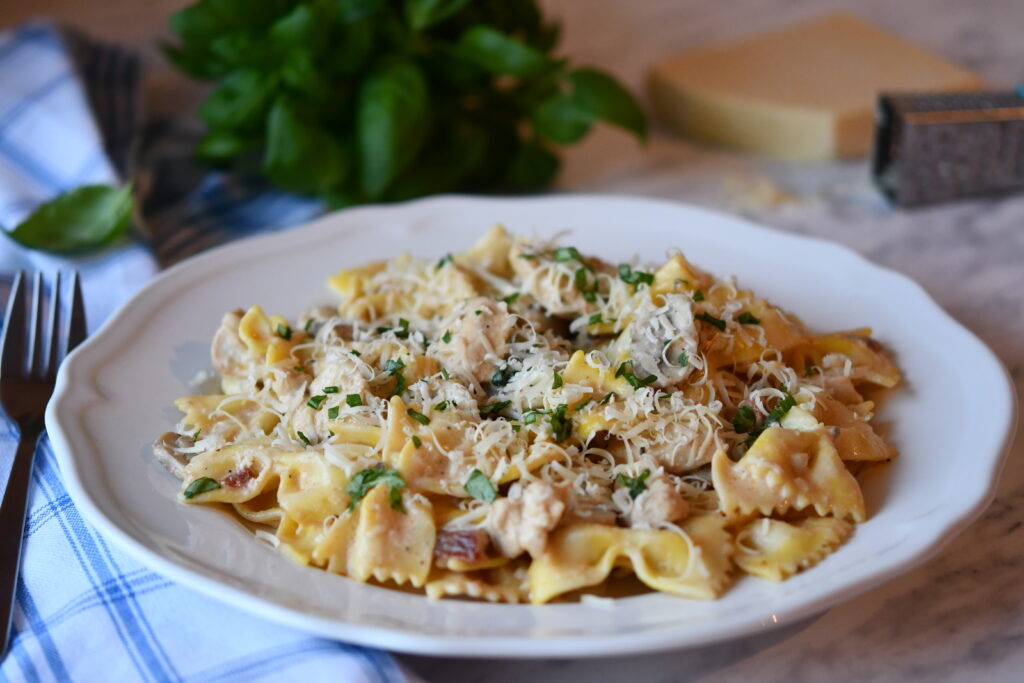 Ingredients:
500 g farfalle or bow tie pasta
500 g chicken breast, cut into strips
2 tablespoon olive oil
1 onion, chopped
2 cloves of garlic, minced
5-6 sun-dried tomatoes, chopped
½ teaspoon dried basil
¼ teaspoon thyme
¼ teaspoon oregano
300 ml cream 30 %
salt and pepper, to taste
½ cup grated cheddar cheese
1 tablespoon of fresh chopped basil
Procedure:
Cook the farfalle pasta according to package instructions. Set aside. Heat the olive oil in a large skillet over a medium heat. Saute garlic and onion and cook until onion turns into a glassy color. Add the chicken and cook until lightly brown. Stir in dried tomatoes, basil, thyme and oregano. Add the cream and grated cheddar cheese. Lower the heat and simmer until it thickens. Toss the cooked pasta with the sauce. Season with salt and pepper. Serve with grated cheddar cheese on top and garnish with chopped fresh basil.
Enjoy!