Poland is famous for producing great sausage, personally I have not eaten better in any other country. So let's prepare the sausage in different ways. One of my favorite dishes with sausage in cream sauce, potatoes and cabbage salad. Simple preparation with basic ingredients found in every kitchen 🙂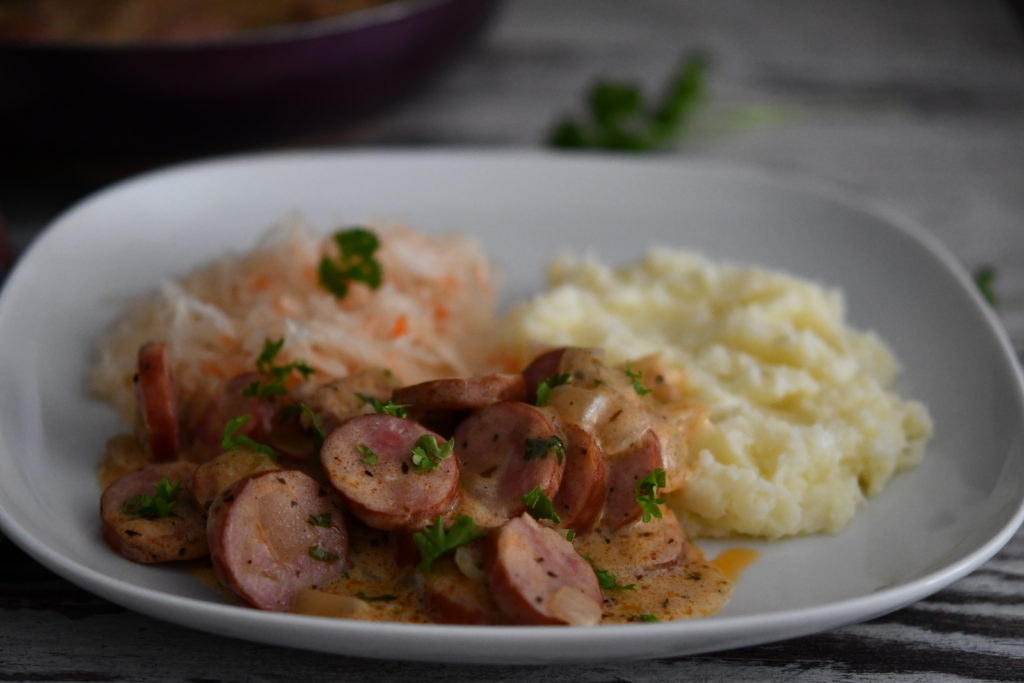 Ingredients:
250 g sausage (e.g. Silesian) cut into slices
1 medium onion, cubed
half tsp sweet chili pepper
half tsp dried basil
tsp fresh green parsley, chopped
salt and pepper
spoon of flour
2 tbsp cream
a tablespoon of oil
Procedure:
Heat oil in a frying pan in a medium heat. Add the onion and sausage. Sprinkle with spices and fry until the onions and sausage turn gold. Pour over a glass of hot water and cook for about 20 minutes. Add parsley. Pour some broth from the pan into a cup and cool. Add cream, flour to the broth on the cup and mix thoroughly. Pour the contents of the cup into the pan to thicken the sauce. Stir and boil vigorously. Season with recipe spices to taste (usually salt and pepper are enough). Serve with potatoes and your favorite salad 🙂
Enjoy!