I ate Hungarian pancake for the first time during my first visit to Poland in one restaurant in Warsaw. I remember the taste of this cake up to this day, so years later I decided to recreate this recipe. Pancake with goulash make a perfect, aromatic and tasty dish that you can just bend your legs to better eat while sitting and feel the delicious dish 🙂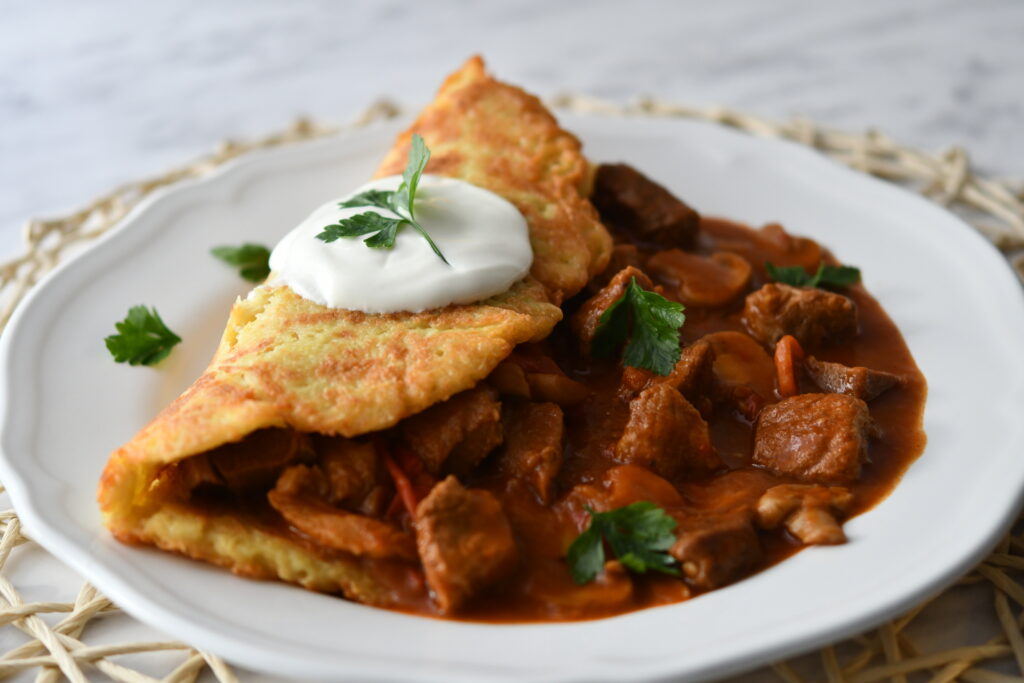 Ingredients:
½ kg of potatoes
1 tablespoon of flour
1 small onion
1 egg
salt to taste
2 tablespoons of oil
Hungarian goulash (recipe)
cream 18% for serving
chopped parsley for serving
Procedure:
Peel the potatoes and grate them on a small mesh. Put in a colander for 5 minutes, then squeeze the water out of them with your hands. Also grate the onion on fine mesh. Add to potatoes along with flour, salt and egg. Mix all ingredients thoroughly until combined. In a frying pan, heat the oil over medium heat. Put the entire potato mass in the hot oil and spread it evenly in the pan. Fry on each side for 4 minutes until a crispy brown cake is obtained. Transfer the cake to a plate, pour over the stew, fold the cake in half, pour over the cream and garnish with chopped parsley 🙂
Enjoy!