Traditional Polish dish served both cold and hot. Most often, this dish is prepared during Christmas. They are fish fillets served with a delicious vegetable sauce. Interestingly, this recipe is not from Greece, although they also serve fish with vegetables 🙂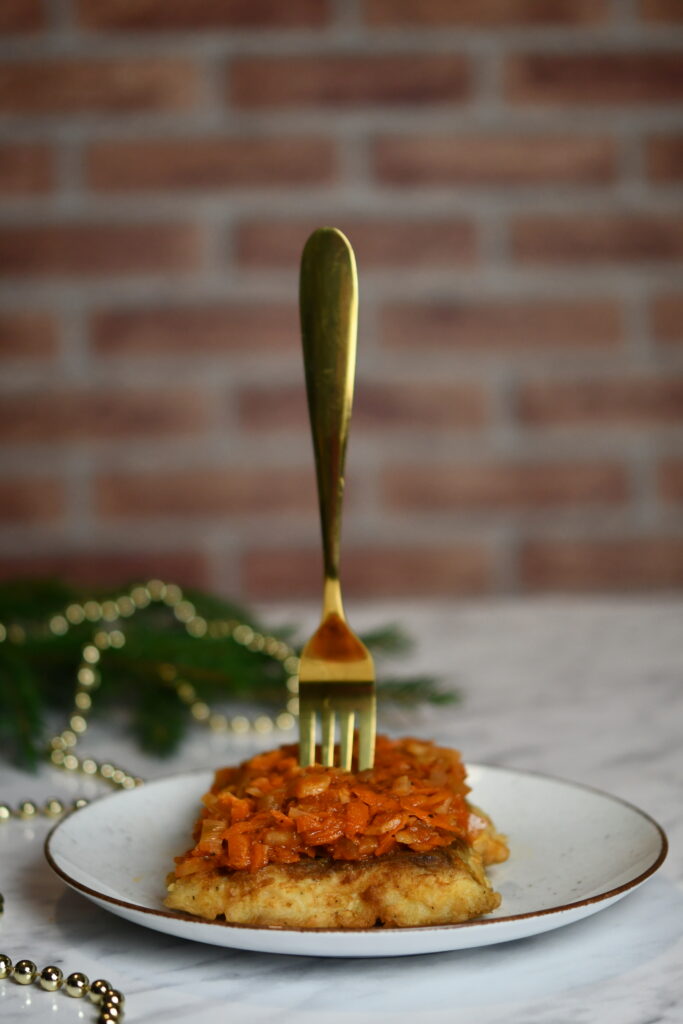 Ingredients:
500 g cod fillet, skinless
2 medium carrots, peeled and grated
1 small parsley root, peeled and grated
50 g celery, peeled and grated
1 onion, diced
4 cm of the white part of the leek diced
100 g of tomato paste
2 glasses of water
½ teaspoon of salt
½ teaspoon of pepper
½ teaspoon of oregano
½ teaspoon of basil
½ teaspoon of sweet pepper
3 allspice
2 bay leaves
oil for frying
green parsley for garnishing
1 egg, beaten
flour to coat
Procedure:
Put the carrots, parsley and celery in the pot. Pour over the water and bring to a boil. Add salt and simmer for 20 minutes. After this time, add allspice and bay leaves. Cook together for 5 more minutes. Drain 10 tablespoons of stock and add to tomato paste, mix. Heat the oil in a frying pan and fry the onion with the leek. Add the contents of the pot along with the stock and the mixed tomato paste. Mix everything up. Add the oregano, salt, pepper, basil and sweet paprika. Mix thoroughly and cook until the stock evaporates slightly and the sauce thickens a little. During this time, fry the fish. Cut the fillet into smaller pieces, sprinkle it with salt and pepper, coat with flour, then in the egg, and lastly in the flour again and immediately put into the pan with hot oil. Fry on each side until golden brown and put in an ovenproof dish. Cover the fish with hot vegetables. You can prepare the dish the day before and then heat it in the oven.
Enjoy!