Macaroni salad is an extremely simple, quick and, most importantly, really tasty recipe. It is also a traditional dish in the Philippines most often served during Christmas. In addition, it looks nice when serving. The ingredients go well together, they add a little sweetness, a little acidity, thanks to which we have a colorful dish rich in a perfect composition of flavors 🙂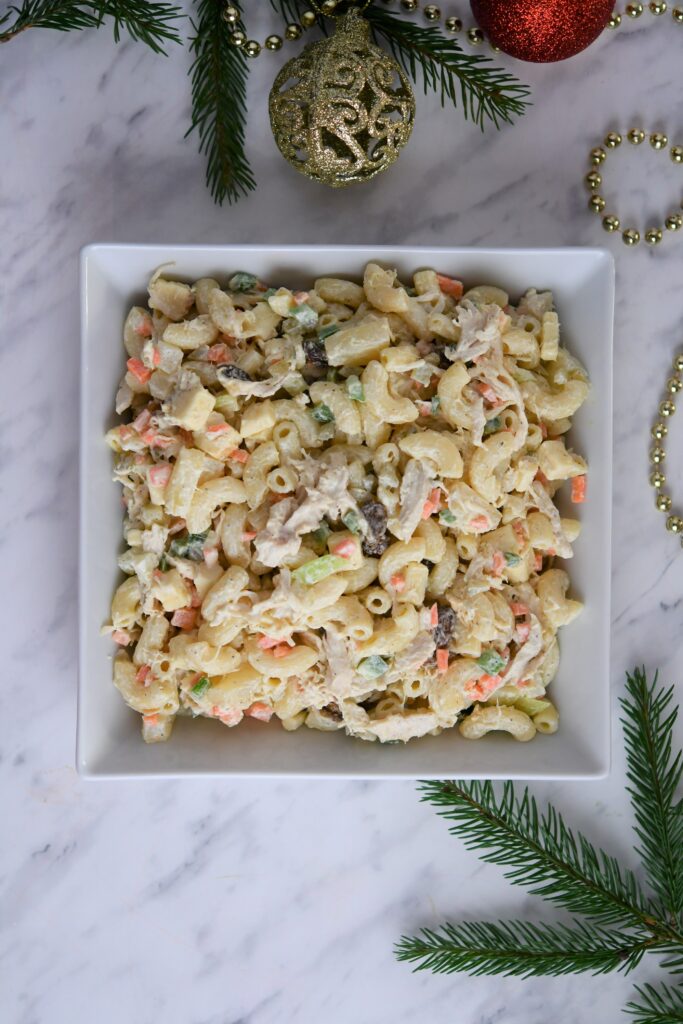 Ingredients:
250 g chicken breast
250 g elbow macaroni, cooked according to the package instruction
⅓ cup mayonnaise of your choice
1 can pineapple chunks 8 oz
1 cup shredded cheddar cheese
1 small red bell pepper, finely chopped
1 small green pepper, finely chopped
1 carrot, finely chopped
½ cup raisins
¼ cup pickle relish or finely chopped pickles
½ teaspoon granulated garlic
salt and pepper to taste
Procedure:
In a cooking pot, boil the chicken with a ½ teaspoon of salt. Cook, covered for 15-20 minutes until it is cooked. Remove chicken from the pot. Let it cool down. Using your hands, shred the chicken into pieces and set aside. Cook the macaroni according to the package instructions. Drain the water and set aside. Place cooked macaroni in a large mixing bowl. Add shredded chicken and toss. Put-in pineapple, chopped red and green bell pepper, chopped carrot, raisins, pickles, and cheese. Toss until ingredients are blended. Add mayonnaise and granulated garlic. Season with salt and ground black pepper to taste. Toss again until well blended. Serve 🙂
Enjoy!