Easy to prepare, easy available ingredients, and the effect is knocking down. Delicious creamy soup with pieces of boiled chicken, mushrooms and spinach is the perfect recipe for a tasty soup. The spring color of this dish makes you just want to eat it 🙂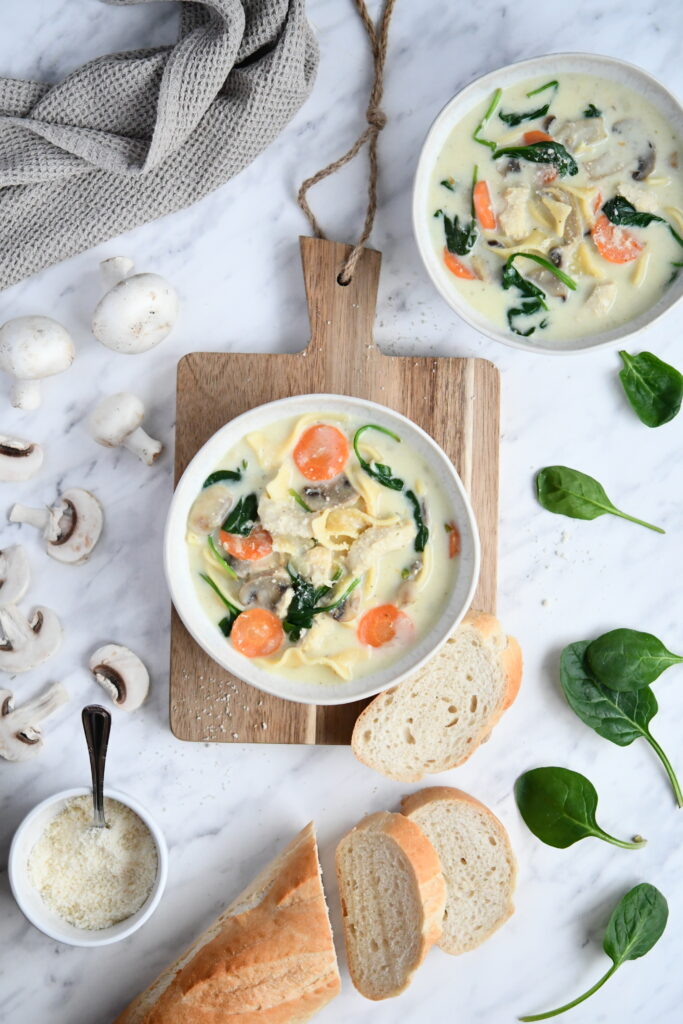 Ingredients:
250g chicken breasts, cut into small strips
2 tablespoons olive oil
1 white onion, chopped
1 medium-sized carrots, sliced
250g mushrooms, sliced
2 cloves of garlic, minced
½ teaspoon of oregano
½ teaspoon of thyme
5 cups of chicken broth
salt and freshly ground black pepper
2 tablespoons butter
3 tablespoons flour
2 cups of milk
250g pasta, i used short tagliatelle
2 cups of spinach
100g heavy cream
¼ cup grated parmesan cheese
Procedure:
Heat olive oil in a large pot over medium-high heat. Saute onion, carrots and mushrooms for 3 minutes. Add the garlic, sprinkle with oregano and thyme and saute for another 2 minutes. Add in chicken and pour in the chicken broth. Lower the fire and simmer, covered for 15 minutes or until the chicken is cooked. Meanwhile, melt the butter into a saucepan over a medium heat. Add the flour and whisk for 1 minute. Pour in the milk and whisk continuously until it thickens. Season with salt and pepper. Remove from fire and set aside. Add the pasta into the soup pot. Cover and cook for about 9 minutes or depending on the pasta package instruction. Add the spinach, cream, parmesan cheese, the sauce and stir. Serve warm and sprinkle with parmesan cheese if desired 🙂
Enjoy!