Extremely easy to prepare, juicy and tasty roast chicken. The extra apples make the dish sweet and sour, depending on the apples selected. The perfect way to have a delicious meal for the whole family 🙂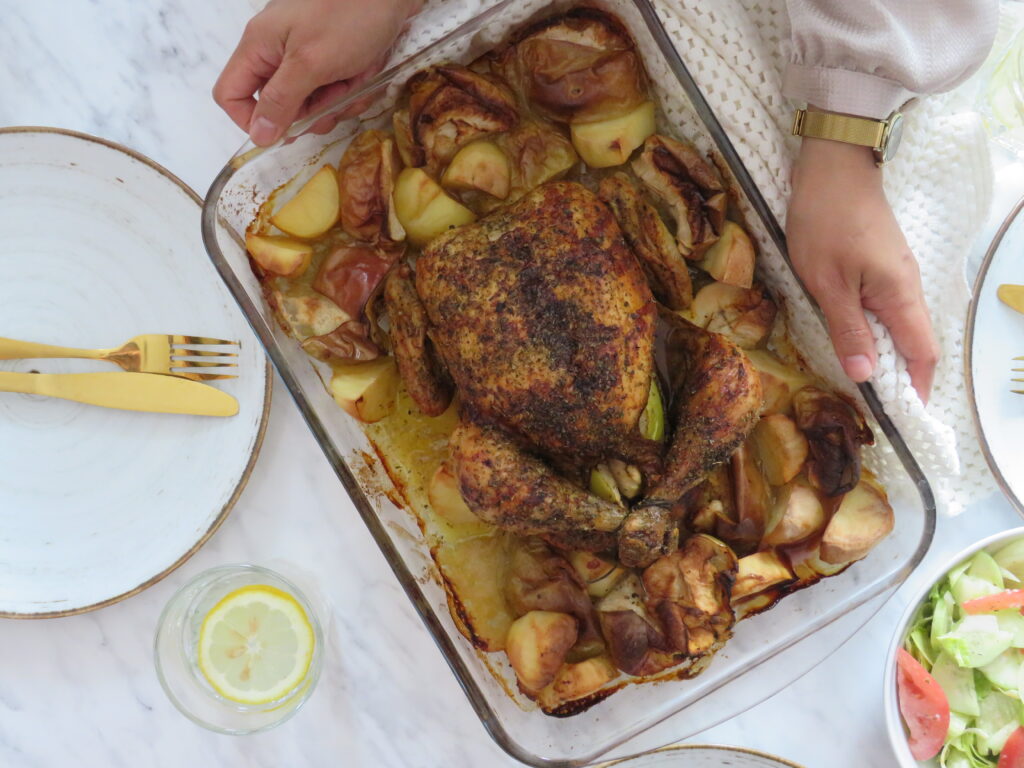 Ingredients:
1 whole chicken (about 1.5 kg)
4 apples (two sweet and two sour), cut into quarters and removed the seeds (do not peel the apples)
3 cloves of garlic, crushed
3 potatoes, peeled and cut into quarters
1 teaspoon of pepper
2 teaspoons of golden chicken spice
½ teaspoon of salt
2 teaspoons of marjoram
2 tablespoons of oil
Procedure:
Wash and dry the chicken. Combine pepper, salt and golden seasoning. Rub the chicken thoroughly on each side and inside too. Put the chicken in the fridge overnight. After this time, remove the chicken, brush it gently with one tablespoon of oil and sprinkle with marjoram. Put the garlic and 3 apple quarters inside. Tie the legs with a string so that the apples do not fall out. Grease a baking dish with the remaining oil. Put the chicken on it and put apples and potatoes around. Bake in an oven preheated to 180°C for 90 minutes, occasionally sprinkling the chicken with water or the resulting sauce in the pan.
Enjoy!