If you don't like lazy cabbage rolls or you don't have time to wrap classic cabbage rolls, or you just fancy a delicious and simple soup, this recipe is for you. A great, filling, easy-to-make and actually self-made soup is the perfect way to have a delicious dinner for the whole family. You can prepare it in the evening and reheat it the next day, then it tastes even better! 🙂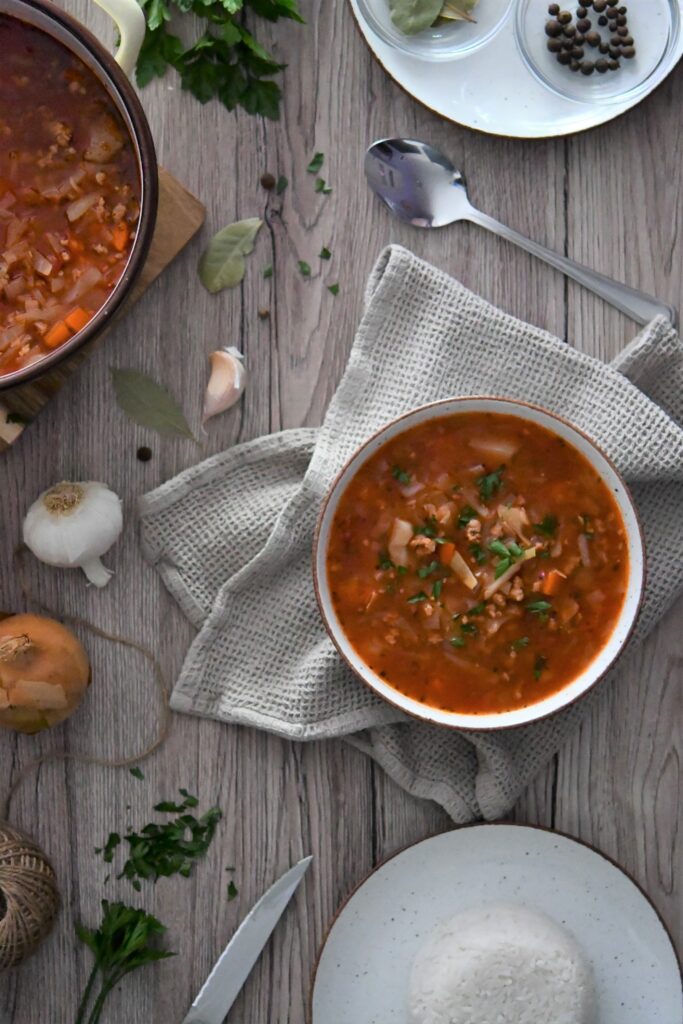 Ingredients:
600 g of minced meat from the pork shoulder
700 young shredded cabbage (there can also be other cabbage such as Italian or Beijing)
2 onions, diced
2 carrots, diced
1 can of peeled, sliced ​​tomatoes (400 ml)
4 tablespoons of tomato paste
2 liters of vegetable broth prepared from 2 vegetable cubes (recipe) or other broth
2 tablespoons of oil
1 tablespoon of marjoram
½ teaspoon of salt
1 teaspoon of pepper
1 teaspoon of sugar
1 tablespoon of sweet pepper
3 bay leaves
5 allspice balls
cooked rice for serving
Procedure:
In a large pot over low heat, heat a tablespoon of oil and add the onion. Lightly glaze it for about 10 minutes. Add the carrots and cook together over low heat for another 5 minutes. Add the cabbage, bay leaves and allspice and mix thoroughly. Pour over the hot broth and cook for about 20 minutes. Meanwhile, heat the rest of the oil in a frying pan over high heat. Add the meat, pepper, salt, sugar, sweet paprika and marjoram (you can also add your favorite spices) and cook them together, stirring occasionally for about 10 minutes, until the meat turns color. Remove from heat and set aside. After 20 minutes, add canned tomatoes to the broth and cook for another 15-20 minutes. After this time, add the tomato paste and the fried meat, bring it to a boil and mix it. Alternatively, season to taste and cook for less than 5 minutes. Put a portion of rice on a deep plate and pour the soup over it 🙂
Enjoy!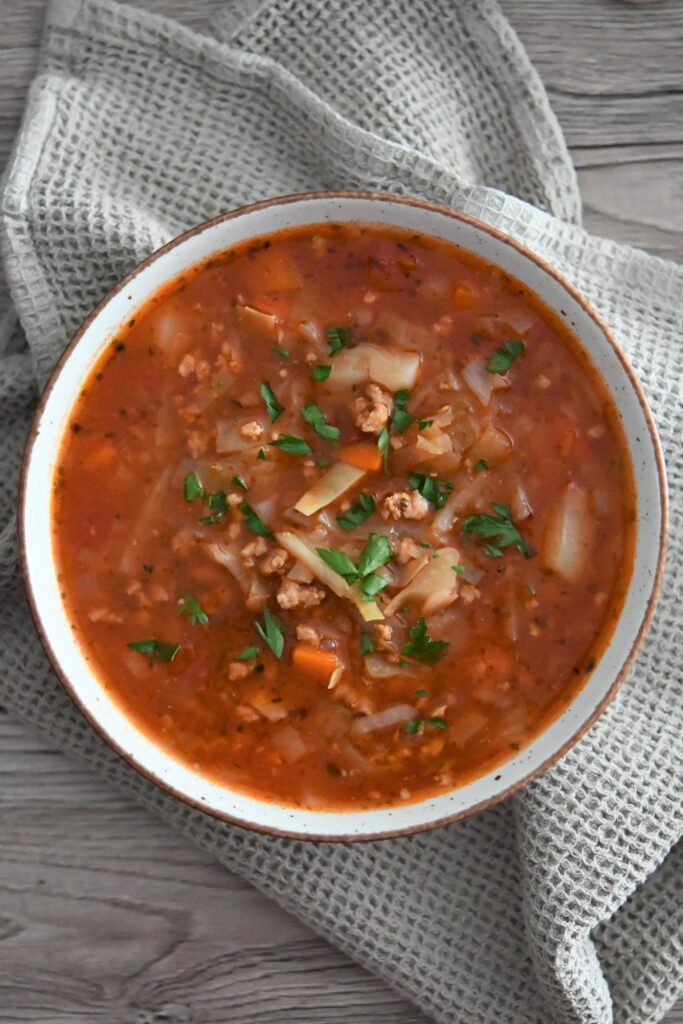 allspice
,
bay leaf
,
bulion
,
cabbage
,
carrot
,
chinese cabbage
,
easy recipes
,
fast recipies
,
marjoram
,
oil
,
onion
,
pepper
,
pork
,
rice
,
salt
,
tomato sauce
,
tomatoe