Pumpkin dessert is very easy to prepare and extremely delicious sweetness from this seasonal vegetable. Spicy spices, delicious chocolate biscuits, great fluffy cream and wonderful pumpkin puree are a perfect mix for an exceptionally tasty dessert for everyone. The ingredients of the recipe are enough for two large portions 🙂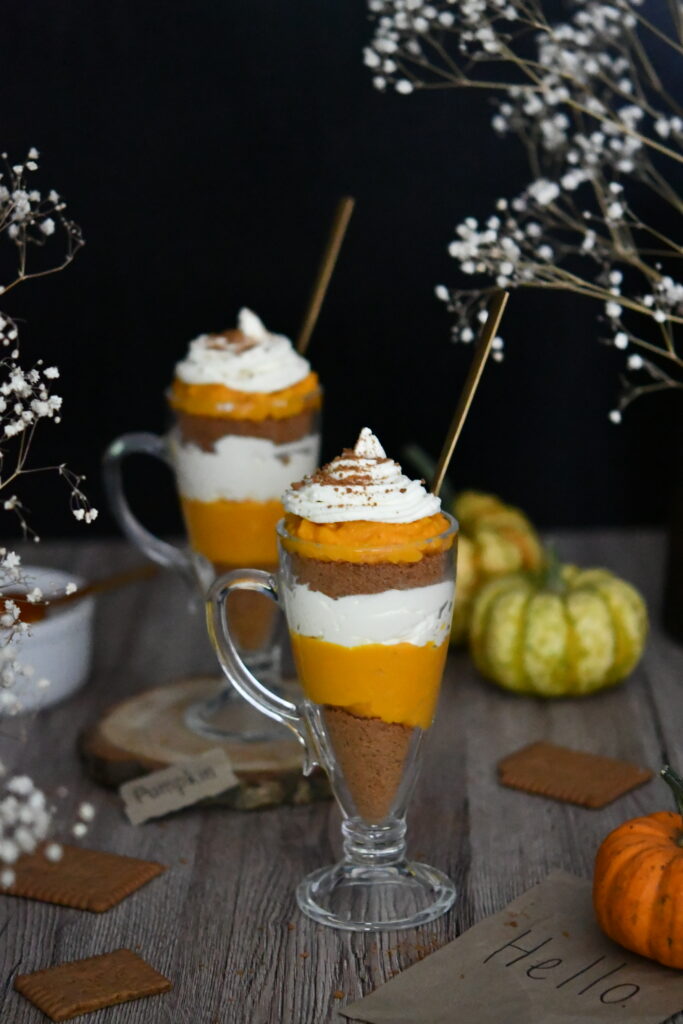 Ingredients:
1 1/2 cups pumpkin puree, store bought or homemade
a pinch of cinnamon powder
a pinch of ginger powder
a pinch of nutmeg
a pinch of ground cloves
1 teaspoon of vanilla extract
2 tablespoons of honey
100 g of mascarpone cheese
250 ml of heavy cream 30%
powdered sugar, to taste
150 g of ground of chocolate biscuits
Procedure:
Bring pumpkin puree to a boil, then remove from heat. Add cinnamon, ginger, nutmeg, ground cloves, vanilla extract and honey. Mix and leave to cool. In a mixing bowl, Put 2 tablespoons of the pumpkin puree, add the cream cheese and mix. Add the cream and mix them all together to a thick mass. Add the powdered sugar and mix again until combined, you can adjust the sweetness desired. Put 1-2 tablespoons of ground biscuits into the cup, next, the pumpkin puree and cream. Repeat the process and sprinkle the top with crushed biscuits. Layers can be freely composed depending on the size of the cups and preferences 🙂
Enjoy!