Chanterelles are one of my favorite mushrooms. They are perfect for dinners with meat, scrambled egg breakfast and even toppings for pizza. This time I decided to use these mushrooms in a tasty, creamy soup. A delicious creamy soup with a beautiful forest scent is the perfect dish to use these seasonal mushrooms 🙂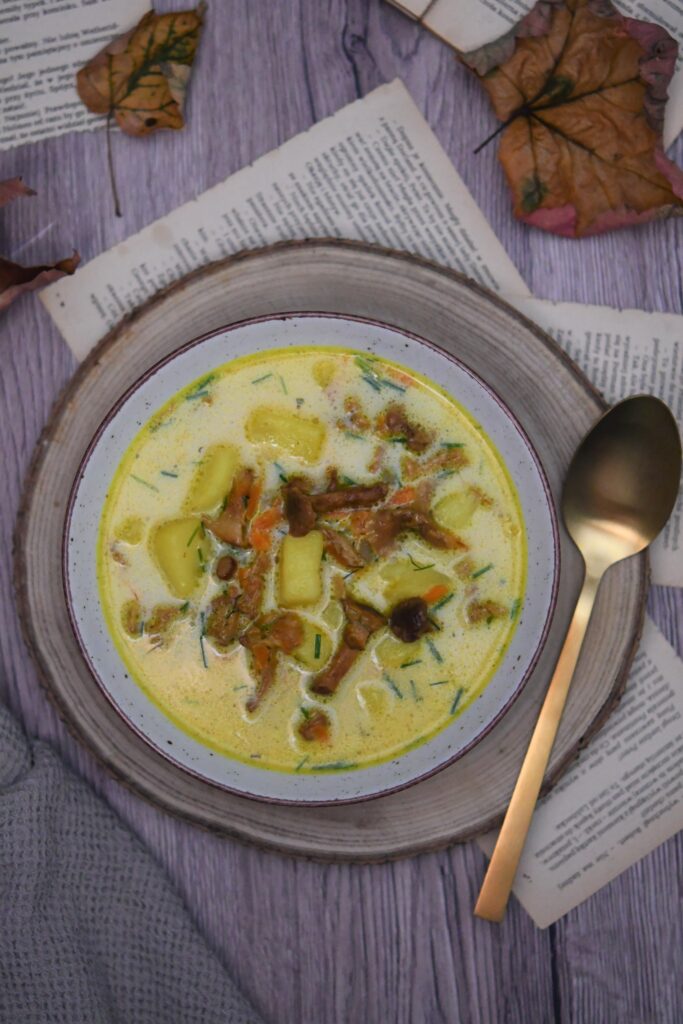 Ingredients:
200 g of washed chanterelles
1 onion, diced
2 garlic cloves, chopped
300 g of peeled potatoes, diced
1 medium-sized carrot, grated into a large mesh
750 ml vegetable stock prepared from 1 vegetable cube (recipe) or other broth made from vegetables
½ teaspoon turmeric
2 tablespoons of chopped dill
2 tablespoons of chopped chives
100 ml of cream 18%
2 tablespoons of clarified butter
salt and pepper to taste
Procedure:
In a thick-bottomed pot, melt the butter. Add the onion and fry it over low heat until it has a glass color. Add garlic and chanterelles and simmer for about 7 minutes. Add potatoes, carrots and turmeric and mix thoroughly. Pour the stock over it, bring to a boil and cook, covered, for 20 minutes, until the potatoes are tender. Mix 2 tablespoons of soup with cream to temper it. Add the chives and dill to the soup and cook for 2 minutes. Add the cream, mix, season with salt and pepper to taste and set aside from the heat. Serve the soup to eat while it's warm 🙂
Enjoy!