A very effective dinner suitable for special occasions, extremely tasty and very simple. Just chop some vegetables, place them in a dish, put them in the oven, and the rest will do itself. A mix of pork loin, with potatoes, peppers and onions is the perfect way for a special occasion as well as for an ordinary home dinner 🙂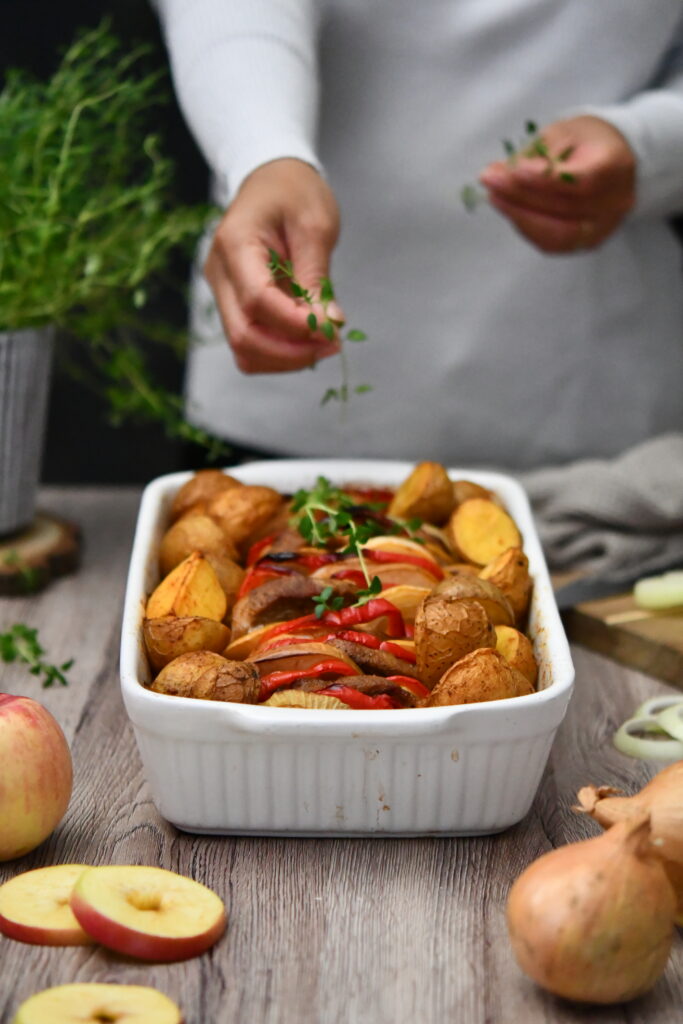 Ingredients:
1 ½ kg of pork, sliced ​​(no need to break)
2-3 small apples with hollow nests and sliced
1 large pepper, sliced
2 medium onions, sliced
2 tablespoons of sweet pepper
600 g potatoes, cut into smaller pieces (you can peel, I had new potatoes, so I didn't peel them)
salt and pepper to taste
2 tablespoons of oil
a few sprigs of thyme
Procedure:
Mix the pork loin with one tablespoon of oil, 1 tablespoons of sweet paprika, salt and pepper. In a heatproof dish, alternate pork loin slices with onions, peppers and apples. Mix the potatoes with the remaining oil and sweet paprika and season with salt. Arrange the potatoes on the sides of the meat. Bake a heat-resistant dish with food, covered in an oven preheated to 180°C (hot air) for 1 hour and 30 minutes. After this time, remove the cover and bake for another 15-20 minutes. Garnish with sprigs of thyme 🙂
Enjoy!