A light, quick, simple, extremely filling dish that is also extremely tasty. The ham perfectly emphasizes the taste of juicy chicken, a light sauce without the addition of cream goes well with meat, healthy chickpeas, rich in vitamins, fiber and protein, perfectly emphasize the taste of this dish, and like "the icing on the cake" is a delicious mozzarella. A great idea for a simple lunch 🙂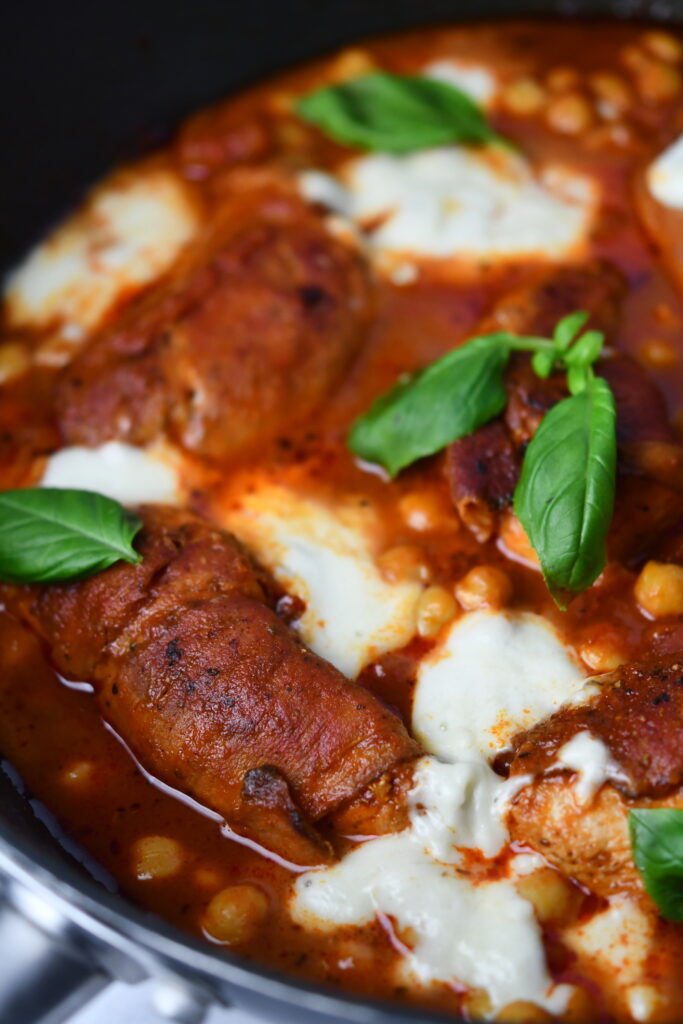 Ingredients:
2 chicken breasts, cut into smaller pieces and broken with a pestle to a thickness of 1 cm
1 cup of dry chickpeas
3 glasses of cold water
100 g of maturing ham in slices
1 ball of mozzarella
1 can sliced ​​canned tomatoes (400g)
1 tablespoon of clarified butter
1 tablespoon of olive oil
a few leaves of fresh basil
1 teaspoon gyros spice
pinch of salt
a pinch of pepper
a pinch of oregano
a pinch of dried basil
Procedure:
Soak the chickpeas in cold water for a night. After this time, rinse thoroughly, put into the pot, pour cold water and cook for 30-40 minutes (remove the scum while cooking). Coat the chicken thoroughly in gyros and olive oil. Wrap the breast pieces in slices of ham. Heat a frying pan over high heat and melt the clarified butter. Fry the chicken over high heat for 3-4 minutes on each side. At the end of frying, reduce the heat and add the tinned tomatoes along with the marinade. Drain the cooked chickpeas and add to the chicken and tomatoes. Add salt, pepper, oregano, dried basil and mix thoroughly and gently. Simmer uncovered until the sauce thickens and reduces. At the end of stewing, add the hand-torn mozzarella and stew them together for 2 minutes, until the cheese is slightly melted. Garnish with basil leaves or other herbs. Serve with pasta, rice or porridge 🙂
Enjoy!