Delicious, quick and easy to make a perfect dish for a quick lunch. Juicy chicken, fresh basil and sun-dried tomatoes are the perfect ingredients for a delicious, creamy sauce. A hint of garlic completes the taste of this dish 🙂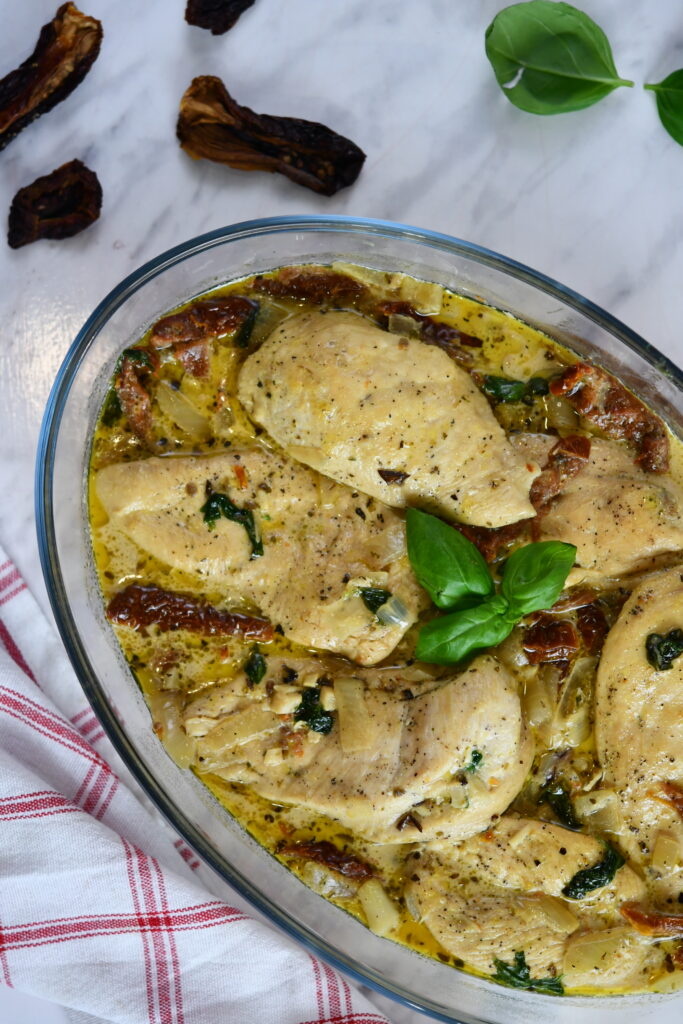 Ingredients:
250 g chicken breast
2 cloves of garlic minced
5-6 pieces of sun-dried tomatoes
1 cup of fresh basil
1 glass of chicken broth
1 cup cream 12 %
salt and pepper
oil for frying
Procedure:
Wash the chicken thoroughly and dry it with a paper towel. Cut the chicken into quarters. Rub it with salt and pepper and place into the fridge, covered for 30 minutes. Heat oil in a big skillet over a medium heat. Fry the chicken until slightly cooked and golden brown on each side. Remove the chicken from the pan. Using the same pan with a little fat from chicken, fry the garlic. Stir in the sun-dried tomatoes. Pour in the chicken broth and add back the chicken. Bring them to a boil. Add the cream and season with salt and pepper. Add the basil leaves and simmer for 3-5 minutes. Serve with potatoes.
Enjoy!