Recently, the days have been cold, even though it is springtime, so a warming soup is a perfect idea for cold days. A tasty, filling, fragrant chickpea soup is a perfect idea for a family lunch. The preparation is simple and the taste is overwhelming 🙂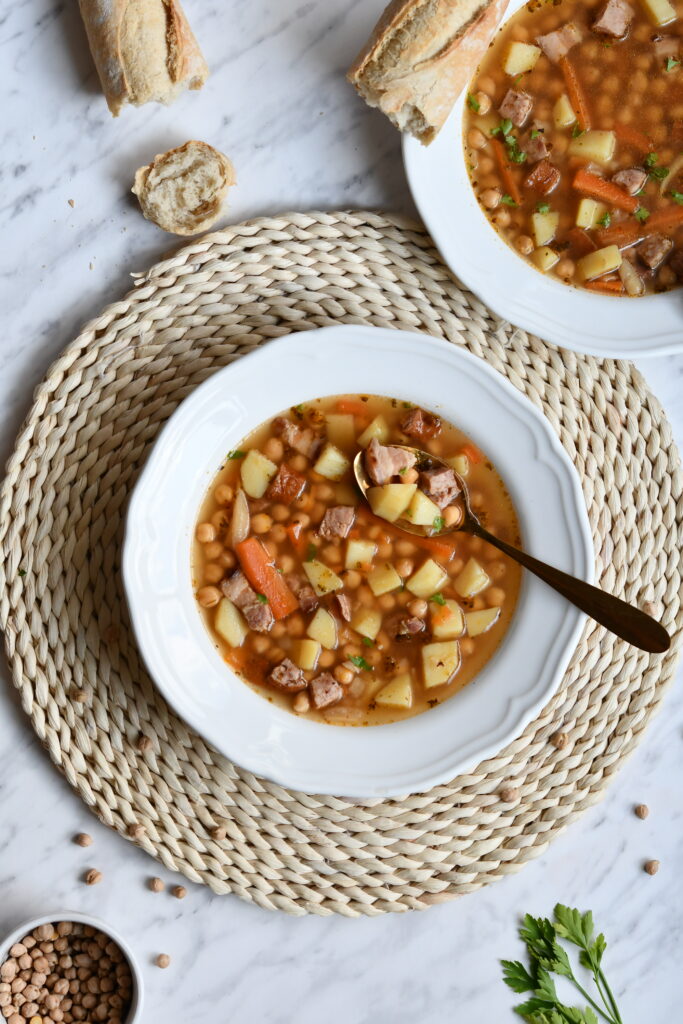 Ingredients:
1 cup of dry chickpeas
100 g of smoked bacon, diced
250 g of diced sausage
2 medium carrots, peeled and cut into strips
1 parsley, peeled and cut into strips
a small piece of celery diced
5 medium potatoes, diced
3 cloves of garlic, chopped
1 teaspoon of sweet pepper
½ teaspoon of hot pepper
2 teaspoons of marjoram
1/4 teaspoon of cumin
salt and pepper to taste
Procedure:
Soak the chickpeas in cold water for a night. After this time, rinse thoroughly. In a thick-bottomed pot, fry the bacon until the fat comes out. Add the sausage and fry together until golden brown. Transfer the meat to a plate. In the rendered fat, fry the garlic and cumin for about one minute. Add the chickpeas and pour 1 liter of boiling water over it. Cook for about 30 minutes. After this time, add vegetables, meat and spices and cook together for 15-20 minutes, until potatoes and chickpeas are tender. Season to taste. Serve with bread 🙂
Enjoy!