A popular dish in Poland which is similar to burrito. Classically, this dish is often stuffed with cabbage and mushrooms and coated by breadcrumbs. I am surprised that this dish is not as popular as various tortillas, burgers, kebabs and other street food dishes, because these are simply delicious  But now I tried a different version of it that will surely make you amazed. Here I present to you another delicious version of rolled crepe with colorful and savory stuffing coated with your favorite ketchup-flavored cheetos 🙂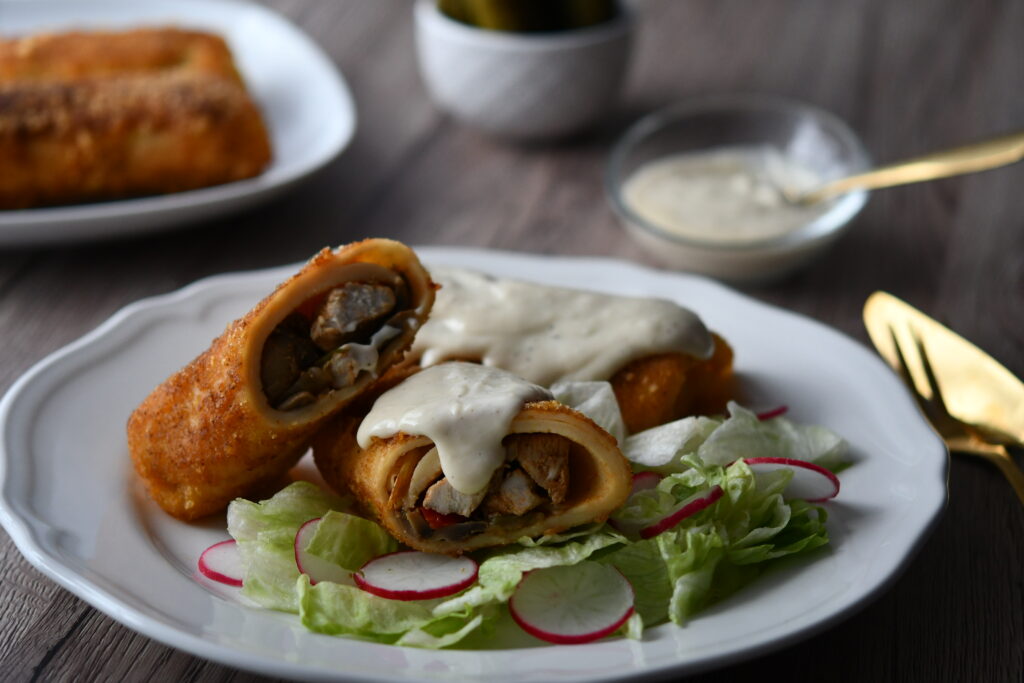 Ingredients:
8 pieces crepe pancake (recipe)
650 g chicken breast, cut into cubes
2 garlic cloves, minced
1 onion, diced
3 colors of red bell pepper, cubed
150 g mushrooms, sliced
3 pieces of medium size pickles, cubed
pickles1 teaspoon of spicy chili pepper
1 teaspoon of sweet chili pepper
1 tablespoon of tabasco
salt and pepper
1 beaten egg
85 g cheetos (ketchup-flavored)
oil for frying
Cheese Sauce:
3 tablespoons of butter
2 tablespoons of flour
1 ½ cup of milk
melt cheese
yellow cheese
salt and pepper
Procedure:
Heat oil into a big pan over a medium heat. When oil is hot enough, saute garlic and onion until the onion turns into a glassy color. Add the bell peppers and mushrooms, cook for 5 minutes or until the liquid from the mushrooms comes out. Add chicken and cook for 7-8 minutes stirring occasionally. Add pickles, spicy and sweet pepper and tabasco (you can add more if you want it to be more spicy). Cook for another 5 minutes until the liquid has reduced. Season with salt and pepper to taste. Allow to cool. Meanwhile, we have to prepare the cheese sauce. Melt the butter into a small saucepan over a medium heat. Add flour and stir to combine. Pour in the milk and lower the heat. Add cheese and stir occasionally until cheese melts. Cook for 1-2 minutes until the sauce has thickened. Season with salt and pepper. Set aside. Place cheetos sticks into a food processor and process until fully crushed (you can also add to a zip top bag and roll with a rolling pin until completely crushed). Set aside into a clean plate. Place the crepe into a flat surface. Put 2-3 tablespoons of the cooled chicken mixture towards the bottom side of the crepe and turn up to hold the filling. Gently fold it from side to side and make sure that the filling is packed. Continue folding. Dip the crepe roll into a beaten egg and coat it with prepared crushed cheetos. Fry for 5-6 minutes on each side or until golden brown. Serve with cheese sauce and salad 🙂
Enjoy!