I like to bake dishes insleeve and I was surprised that I don't have any recipe with this way of baking, so it's time to make it! I'm starting with an extremely simple recipe, but incredibly tasty. The chicken is juicy, aromatic inside, and has a wonderful, crispy skin on the outside 🙂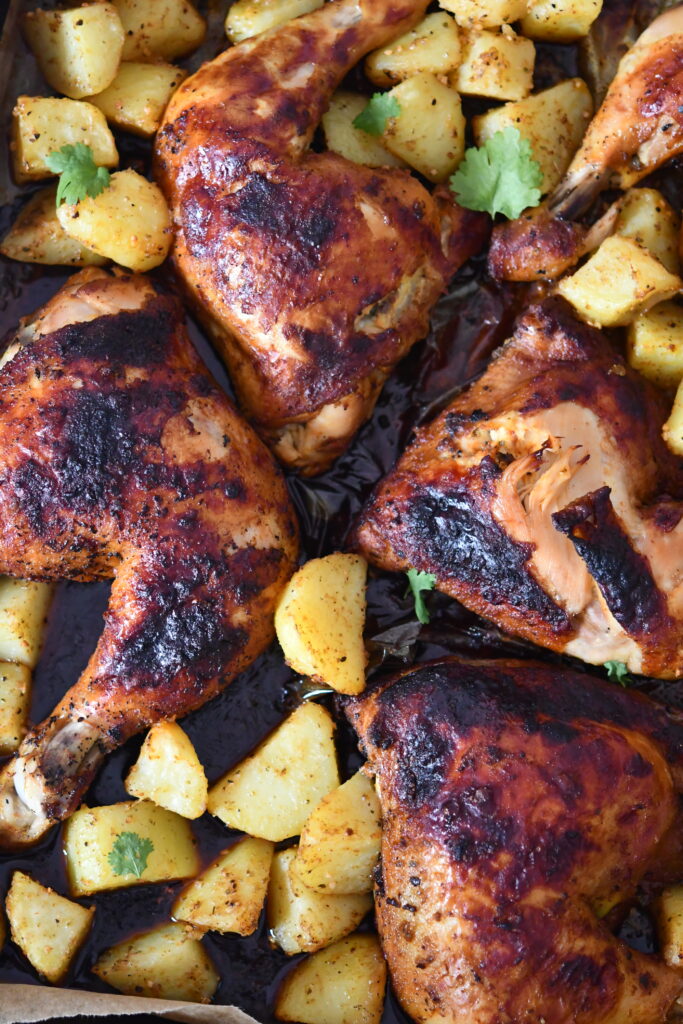 Ingredients:
5-6 chicken leg quarters
Ingredients for the marinade:
1 tablespoon of oil
1 tablespoon of soy sauce
1 tablespoon of sweet paprika
½ teaspoon of turmeric
½ teaspoon of hot paprika
1 teaspoon of pepper
½ teaspoon of salt
Addition:
Sleeve baking
Preparation:
Mix all marinade ingredients thoroughly. Put the chicken in the baking sleeve. Add the marinade and mix the chicken thoroughly with the marinade by hand. Place the marinated chicken in the fridge for at least 2 hours, preferably overnight. Take the chicken out of the fridge an hour before cooking. Preheat the oven to 170°C (convection), close the sleeve with the clasp, place the sleeve with the chicken on a baking tray lined with baking paper and bake for an hour. After this time, tear the sleeve (it will make a balloon, but it will not explode) and spread the chicken skin side up, the sleeve can stay on the baking sheet with all the juice. Set the oven to the grill with the top heater (if the oven does not have this option, it can be top or bottom heating) and bake for 10-20 minutes until a crispy crust is obtained. The baking time depends on the oven, so it is worth checking the chicken from time to time to make sure it does not burn. Serve the chicken with your favorite like baked potatoes and classic carrot salad :
Enjoy!