Crunchy Purple Yam Meringue with cream and a twist of tangy taste from lemon curd. Easy yet beautiful dessert perfect for the Easter celebration. Worth decorating with your little one too!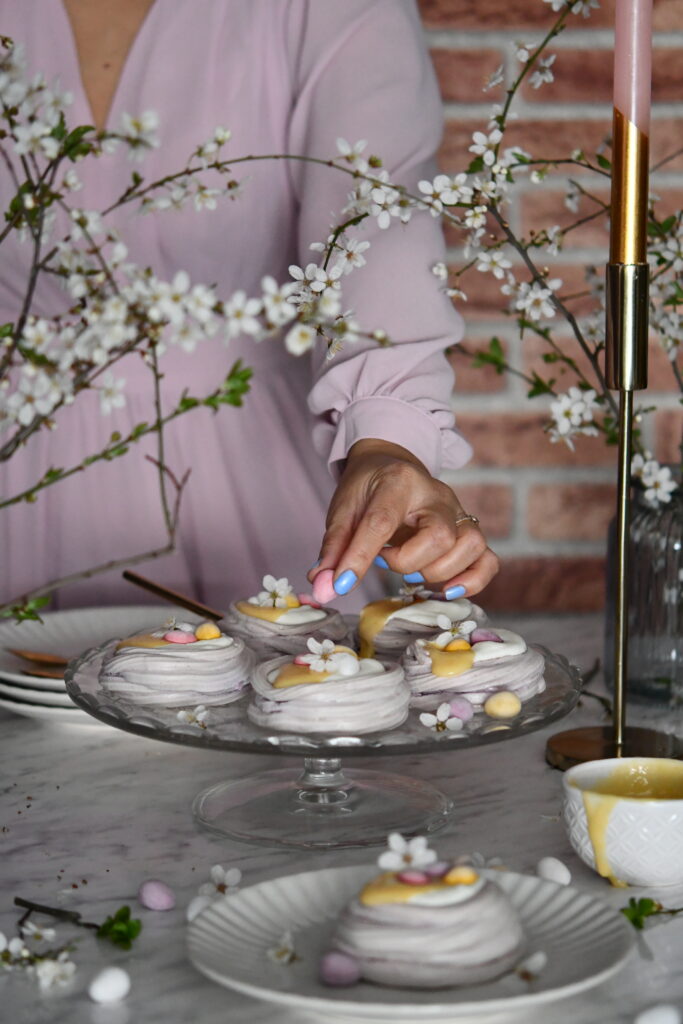 Ingredients:
4 egg whites
200 g sugar
pinch of salt
1 teaspoon purple yam flavor extract
¼ teaspoon potato flour
2 teaspoons purple yam powder
few drops of purple liquid color
200 ml heavy cream, chilled
lemon curd (recipe)
chocolate candy eggs
Procedure:
Preheat the oven to 110ºC. Line the baking tray with baking paper. In a mixing bowl, beat the egg whites with salt for 5 minutes or until foamy. Add sugar in batches and keep beating at a high speed until the sugar has melted. Add the potato flour, purple yam powder and purple yam extract and continue beating until the mass is stiff. Add a few drops of purple liquid coloring and beat again until you reach the color desired. Transfer the meringue mixture into a piping bag with a star tip. Pipe out the meringue of a round shape into the prepared baking sheet. Bake for 45-50 minutes. Remove from the oven and allow to cool. In a large bowl, whip the cream until soft peaks. Fill each meringue with a dollop of whipped cream and a teaspoon of lemon curd. Decorate with chocolate candy eggs 🙂
Enjoy!