Pistachios, raspberries, white chocolate are the perfect trio for a great dessert. The pistachio tart is simply brilliant, crunchy and rich in flavor. The raspberry and chocolate filling looks beautiful thanks to the pastel pink color, and it tastes even better than it looks 🙂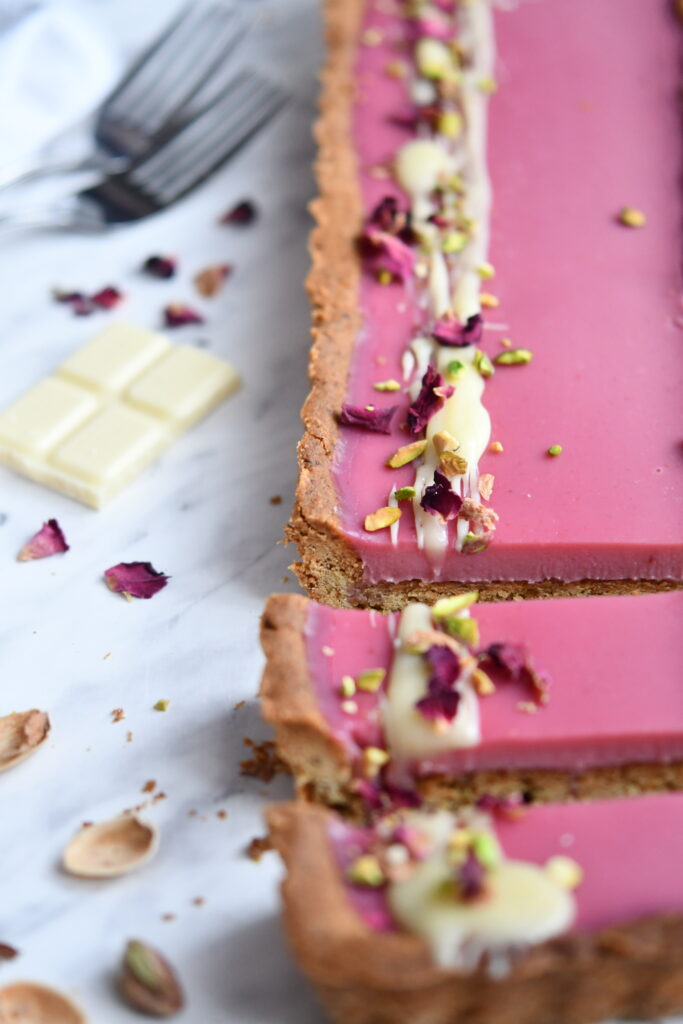 Ingredients:
Pistachio Crust:
100 g pistachios
150 g flour
⅓ cup confectioner's sugar
½ teaspoon salt
100 g chilled butter, cut into cubes
Raspberry White Chocolate Filling:
150 g white chocolate
180 g heavy cream
175 g frozen raspberries
Additional:
20 g melted white chocolate
chopped pistachios
edible roses (optional)
Procedure:
Pistachio Crust:
Pulse the pistachios in a food processor until very fine. Add the flour, sugar and salt and pulse until well combined. Add the butter and pulse again until the mixture turns into large crumbs. Form into a large dough and wrap with a plastic wrap. Refrigerate the dough for 30 minutes. Remove the dough from the fridge and let it sit for 5 minutes to slightly soften. Preheat the oven to 180°C. Place the dough into a baking paper and roll the dough to thicken. Place into a greased tart pan with a removable bottom. Press evenly across the bottom and up the sides of the tart pan. Prick the bottom of the dough several times with a fork. Bake the crust for 20-25 minutes. Allow to cool.
Raspberry White Chocolate Filling:
Chop the chocolates into small pieces and place them into a bowl. Blend raspberries into puree and get rid of the seeds using a sieve. Heat cream and raspberries in a saucepan over medium heat just until simmering. Pour warm cream and raspberry mixture over the chopped chocolate. Stir until the chocolates melts. Allow to cool.
Assemble:
Pour the raspberry chocolate filling into the crust. Chill in the fridge for 3-4 hours or until the filling will set. Drizzle with melted chocolate, sprinkle with chopped pistachios and edible flowers. 🙂
Enjoy!